July 6, 2021
7 Major Changes in Windows 11 System
Windows 11 is here! On June 24, 2021, Microsoft released the introduction of the Windows 11 preview version. The test is expected to be launched this month and will be officially released at the end of the year. Window7/8.1/10 genuine users can upgrade for free. This time Microsoft brought us more surprises.
Seven changes in Windows 11
Based on Microsoft's introduction, we have organized several major changes in Windows 11:
1.Interface redesign
The system interface design and user experience are simplified, and the redesigned interface is more modern and technological, fresh and beautiful. Everything from the new start button and taskbar to every sound, font, and icon has been carefully designed.
The start menu is placed in the middle position. Microsoft claims that this allows users to quickly find what they need.
Based on the strong support of the cloud and Microsoft 365, the Start menu will display recently viewed documents on various platforms and devices, including Android or iOS devices.
Windows 11 introduced Snap Layouts, Snap Groups, and Desktops more powerful multitasking methods. These new features are designed to help organize windows and optimize screen space. Users also create individual desktops that can be customized for each part of life according to their own preferences.
2. Fast contact
In Windows 11, Microsoft introduced the Microsoft Teams chat function integrated into the taskbar.
No matter what platform or device the user is using, Windows, Android, or iOS, the user can instantly communicate with each other via text, chat, voice or video anytime and anywhere.
If the other party has not downloaded the Teams app, the user can still communicate with them via two-way text messages. And allows users to mute and unmute immediately.
3. Provide the best PC gaming experience so far
As Microsoft said, games have always been the foundation of Windows.
Windows 11 unleashes the full potential of the system hardware, allowing some of the latest game technologies to serve users.
  DirectX 12 Ultimate, which can achieve stunning and immersive graphics at high frame rates;
  DirectStorage can shorten game loading time and experience a more detailed game world.;
  And automatic HDR provides a wider and more vivid color range, bringing a truly fascinating visual experience;
  Through Xbox Game Pass for PC or Ultimate, gamers can access more than 100 high-quality games;
  And the hardware compatibility is greatly enhanced.
4. Widgets
Windows 11 aims to let users take a look at the outside world at any time through widgets, and get news and information that users care about.
The Windows 11 Widgets function is based on AI and Microsoft Edge and can be opened on the computer desktop management view. View content includes news updates, weather changes, and news notifications that users care about. It slides on the computer screen like a piece of glass without interfering with what the user is doing.
Widgets also opened up new spaces for creators and publishers in Windows to provide personalized content.
5. A brand new Microsoft Store
The brand-new Microsoft Store design is more beautiful, faster, and more applications, including selected collections, are easier to discover (such as applications, games, shows, movies).
More excellent first-party and third-party applications (such as Microsoft Teams, Visual Studio, Disney+, Adobe Creative Cloud, Zoom, and Canva) have been added, and they have all passed security tests.
Surprisingly, Android applications were introduced to Windows. At a later date, users will be able to discover Android applications in the Microsoft Store and download them through the Amazon Appstore.
6. A more open ecosystem
Microsoft is taking steps to further open the Microsoft Store to release more economic opportunities for creators and developers.
This is reflected in creating opportunities for Win32, Progressive Web Applications (PWA), Universal Windows Applications (UWP), or any other application framework to reach and interact with more people.
Microsoft has made incremental changes to its revenue-sharing policy. Application developers can now bring their business into our store and retain 100% of their revenue, which means that Microsoft does not charge any fees.
Of course, application developers can still use our business, and its revenue share is 85/15 model.
7. Faster, safer, and more familiar with IT
Microsoft said that for IT, Windows 11 continues the high-quality stability and compatibility of Windows 10. Microsoft Endpoint Manager, cloud configuration, Windows Update for Business, and Autopilot will continue to be used.
Application compatibility is a core design principle of Windows 11. The use of new built-in security technology makes Windows 11 secure by design. Windows 11 provides an operating system that supports zero trusts to protect data and cross-device access.
Microsoft said that since the day Windows 11 was developed, it has worked closely with hardware and chip partners, including AMD and Ryzen processors, Intel's 11th generation and Evo processors, Qualcomm's AI capabilities, 5G, and Arm. These supports will provide Windows 11 with a strong global hardware ecosystem. Working with Dell, HP, Lenovo, Samsung, Surface, and other companies also ensures that most PCs that users can buy today can support Windows 11.
Which part of these major changes in Windows 11 do you look forward to more?
Follow-up changes according to Windows 11,
WiseCleaner
will always pay attention to Windows 11, constantly adjust and update products, and provide users with more productivity.
Basic requirements for installing Windows 11
Since then, Microsoft has also released the minimum system requirements for installing Windows 11. If your computer device does not meet these requirements, you may have to consider buying a new computer.
The following are the minimum installation requirements for Windows 11 announced by Microsoft.  
Processor:
1 gigahertz (GHz) or faster with 2 or more cores on a compatible 64-bit processor or System on a Chip (SoC)  
RAM:
4 gigabytes (GB)  
Storage:
64 GB or larger storage device  
Note:
See below under "More information on storage space to keep Windows 11 up-to-date" for more details.  
System firmware:
UEFI, Secure Boot capable  
TPM:
Trusted Platform Module (TPM) version 2.0  
Graphics card:
Compatible with DirectX 12 or later with WDDM 2.0 driver  
Display:
High definition (720p) display that is greater than 9" diagonally, 8 bits per color channel
If you are not sure whether your computer meets these requirements, you can ask your computer supplier. Or you can choose
Checkit
to help you. This is a more efficient way. Based on the currently known Windows 11 system requirements, it helps you to check whether your current PC meets the minimum requirements. It is simple, light, portable, clear, beautiful, and most importantly safe. If there are non-compliant items, Checkit will give you specific tips.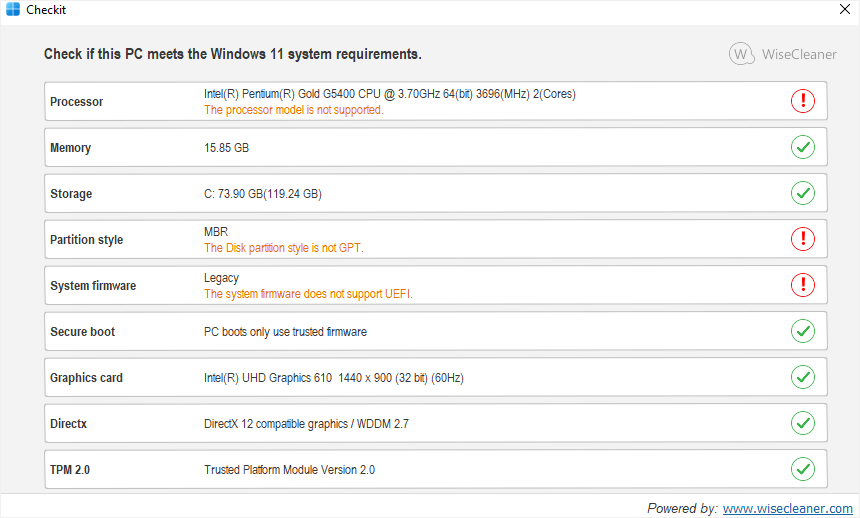 It is simple, light, portable, clear, beautiful, and most importantly safe. If there are non-compliant items, Checkit will give you specific tips.
[References]
Introducing Windows 11