How to Use Wise Care 365 to Speed up Your PC?
Wise Care 365 is the most important product of WiseCleaner, it is an all-in-one utility that includes PC checkup, System Cleaner, System Tune-up, Privacy Protector, and System Monitor.
The PC Checkup of Wise Care 365 provides the easiest way to clean up the system, help you find the potential security issues and optimizable items, and then fix them with just one click.
>>> Click here to view the Full User Guide of WiseCare365
Quickly Clean Up the System with PC Checkup
After clicking the big green button Checkup in the center of the window, Wise Care 365 starts to scan the system and then display the result including the privacy risks, security project issues, useless files, invalid registry entries, and privacy-related issues.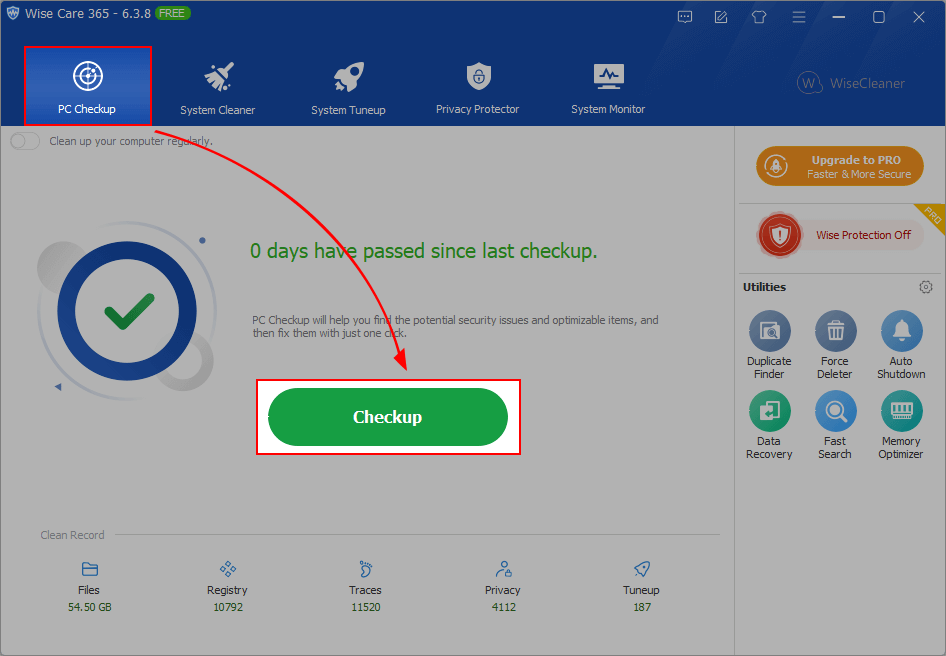 Before cleaning, you can review the scan result, just need to click the item title you want to check. If you don't want to clean an item, you can click the Ignore button to exclude this item from the PC Checkup.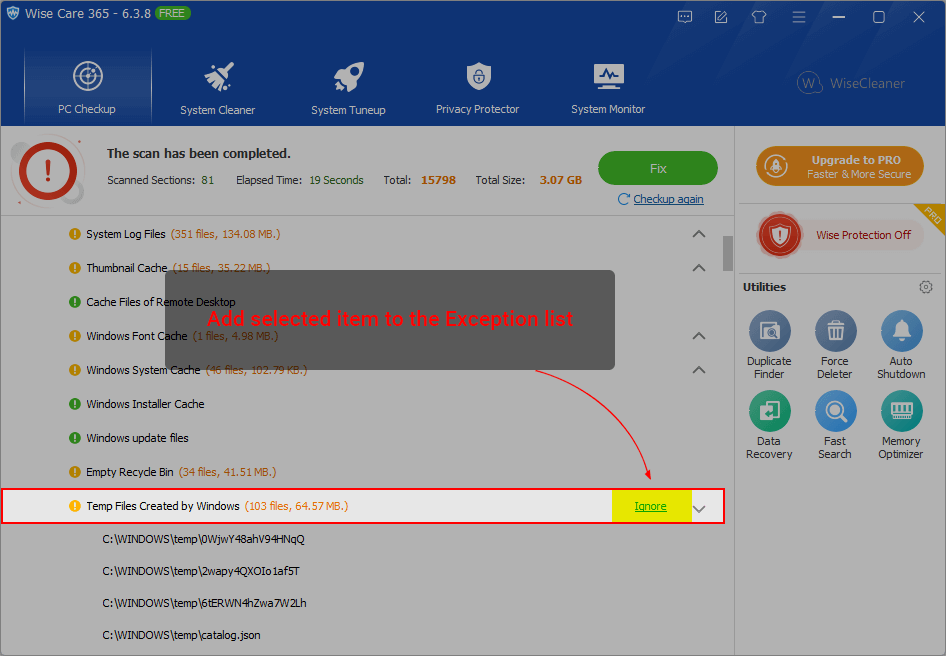 Finally, you just need to click the Fix button and your PC will be cleaned, protected and speed up within a few minutes.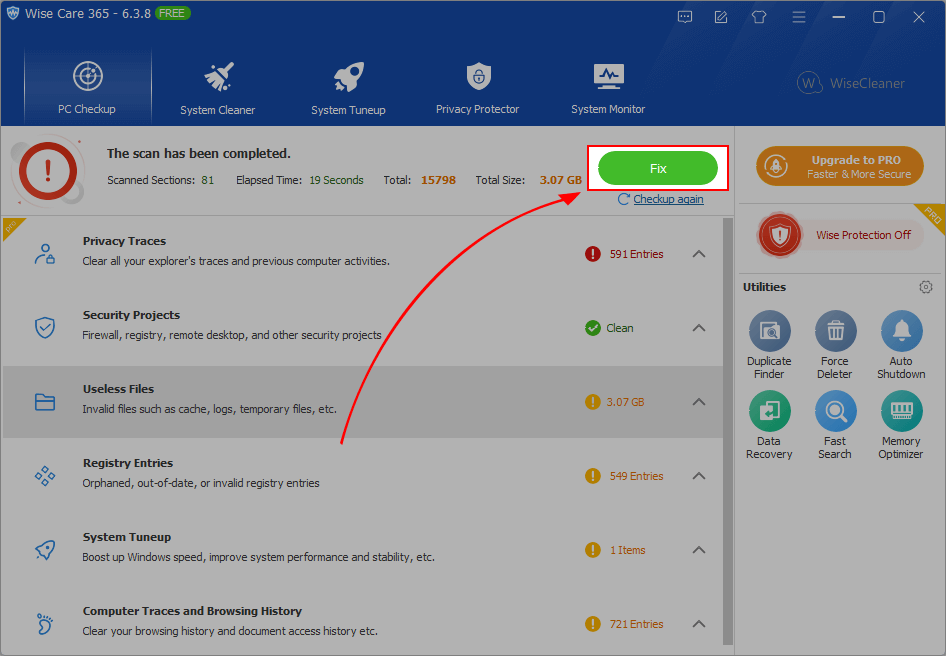 Customize the clean-up items about PC Checkup
For the advanced user, Wise Care 365 supports to customize the cleanup items of PC Checkup.
Just click Menu - Settings - Custom Checkup, you will see 6 categories: Privacy Traces, Useless Files, Registry Entries, System Tuneup, Computer Traces, and Security Projects. A single click can expand a category, you just need to select the item you want to clean up or deselect the item you don't want.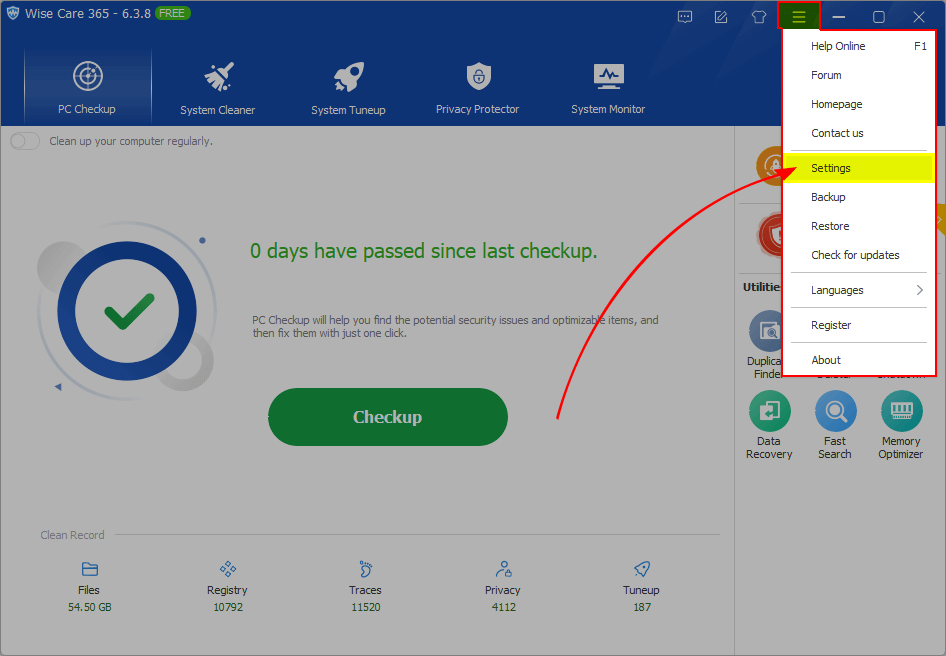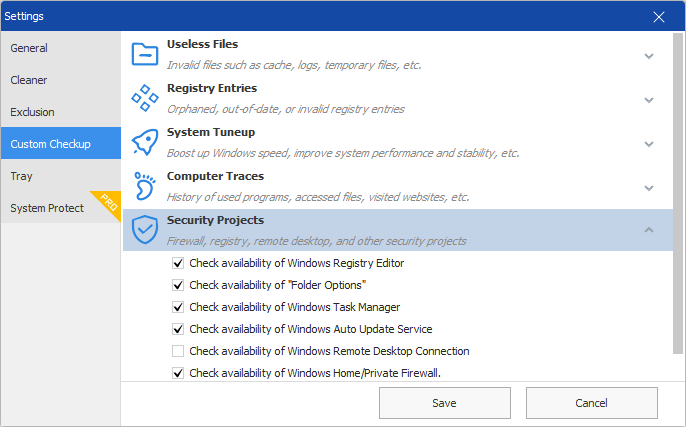 Finally, click the Save button to apply changes.
Schedule an Auto-cleanup Task
Click the ON/OFF button on the left bottom can call out the Schedule Task window. Here, you can schedule a task to help you clean up the system automatically.
Wise Care 365 provides 5 types of tasks: Daily, Weekly, Monthly, On Idle and At Login. If you activate Silent Mode, it will run the task in the background and you will not see the main window of Wise Care 365.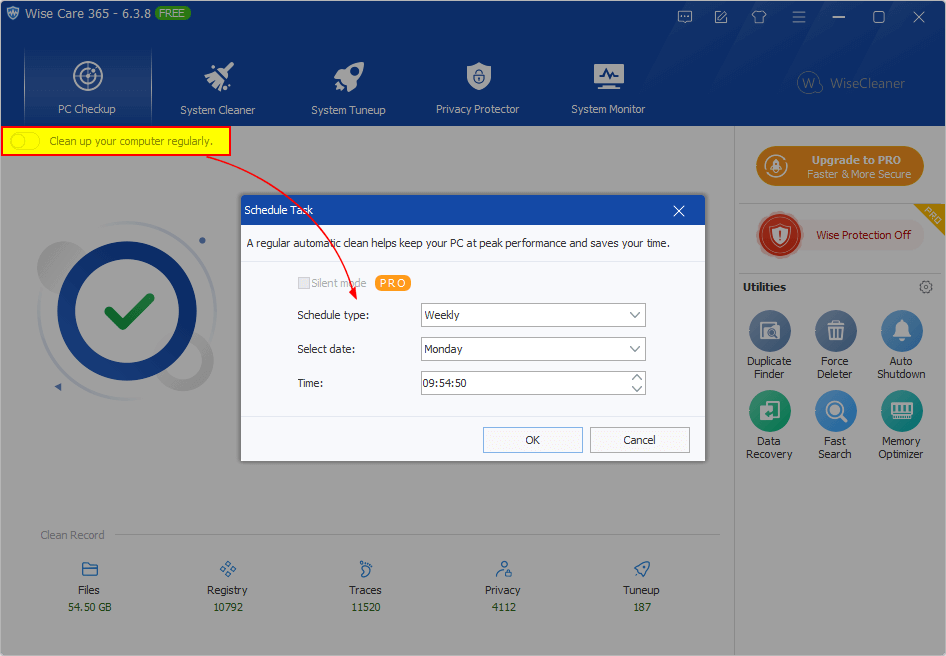 To sum up, this quick checkup & fix feature is enough to speed up your PC. Moreover, Wise Care 365 can do much more, such as system slimming, big file manager, system monitor and so on.