Many people who upgraded from Windows 8 to Windows 10 have suffered from massively lengthened boot time. If you have experienced slow startup in Windows 10, you should know some tips to speed it up. With a few tweaks, you can significantly speed up the boot-up process. Let's see how it can be done.
1. Open up Fast Startup:
Step 1: Open Power Options
Input Power Options in Cortana to open Power Options:
Step 2: Click "Choose what the power button does"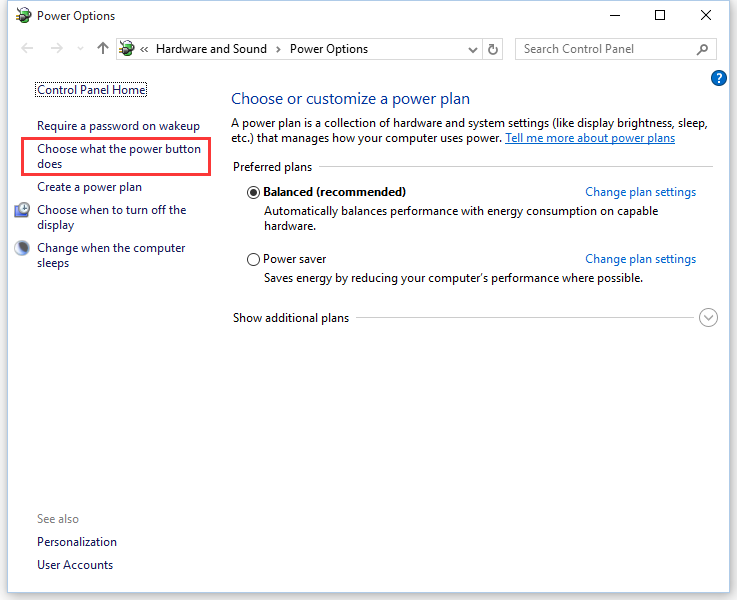 Step 3: Click "Change settings that are currently unavailable"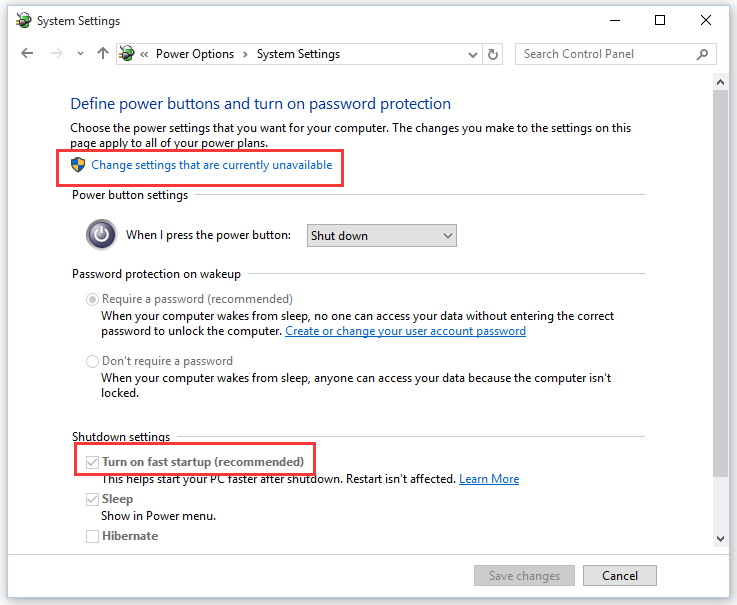 Step 4: Tick "Turn on fast startup (recommended)" and then save it.
If that column has been already ticked, then untick it. Save and Open up again. Tick it later.
2. Set the displaying time of PC system and system list (Only available to the PC with multi-OS)
Step 1: Open System Properties
Please press "Windows Logo key + Break" to open "System Properties" or you can right-click "This PC" icon, then click "Properties".
Step 2: Click "Advanced system settings" and click "Settings".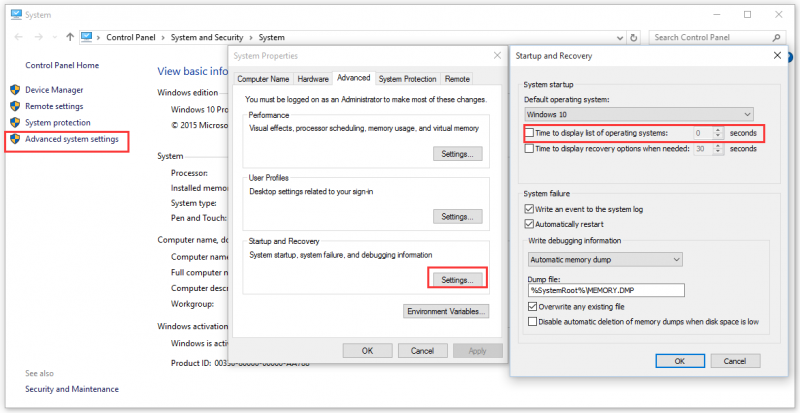 Step 3: Choose the default system in "Startup and Recovery".
Step 4: Reset "Time to display list of operating systems" to make time as short as possible, for example 5 sec.
3. Manage start-up items
Solution 1: Start-up manager of Windows 10
(1) Input "Task Manager" in Cortana or right click in task bar, and choose "Task Manager", or Press "Ctrl + Shift + Esc" to trigger the Task Manager.
(2) Click "Startup" tab to turn off the unnecessary starting up as you need, or refer to Startup impact's recommendation. (Usually, it shows "High, Medium, Low, Not measured").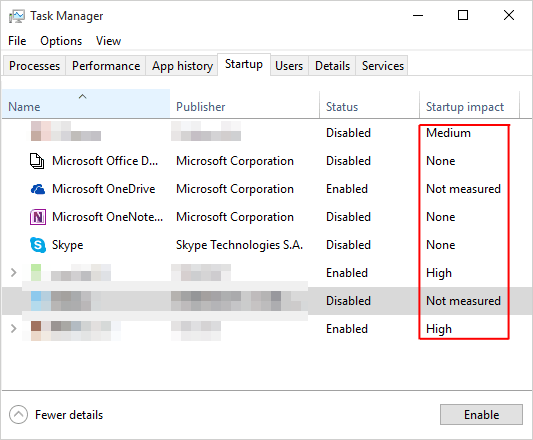 Solution 2: Recommend to use the third party managing software like Wise Care 365.
(1) Run Wise Care 365, and choose System Tuneup -> Startup Manager -> Startup
(2) Switch off the unnecessary startup as needed, or refer to the boot time to close the programs which take a long time.
(3) Startup Manager of Wise Care 365 also lists the Task Scheduler of starting up, so it will list more items than Task Manager to give you more options to turn off.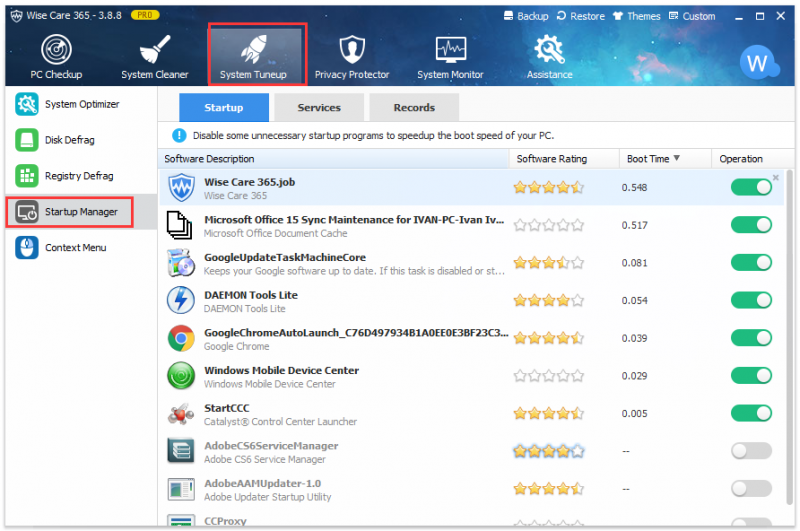 4. Mange Start-up Service
Solution1: Through the windows service panel (Only for advanced users, not for newbies)
(1) Input "services.msc" in Cortana
(2) Amend the way of start-up service to your personal needs, such as Automatic (Delayed Start), Manual, or Disabled.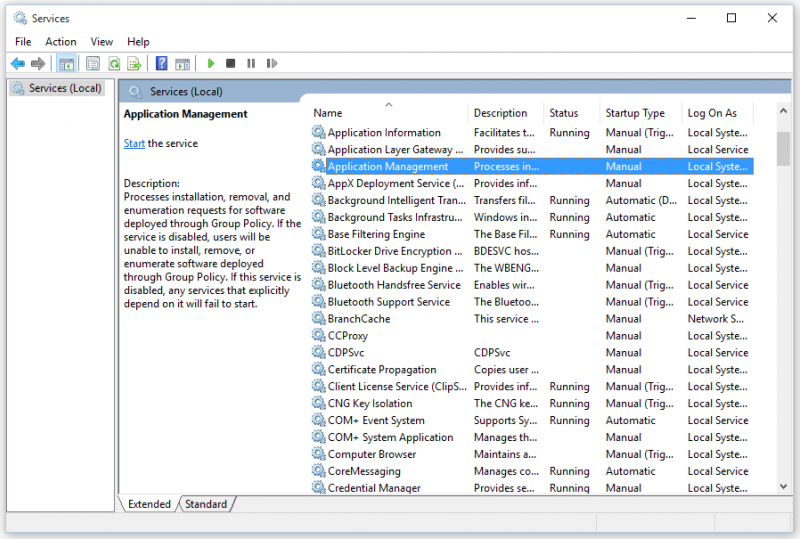 (1) Run Wise care 365 and click System Tuneup -> Startup Manager -> Services
(2) Close unnecessary items as needed or refer to the Boot time to close long time-consuming items.
Tips:
Must be enabled --- It can't be closed off.
Keep --- Recommend to keep the current status.
Enable --- Recommend to open up. But if you don't think it is needed, they could be closed off.
Disable --- Recommend to close off. But if you need them, they could be opened up.
Yellow Stars ---- Means that service is created by the 3rd party so there is no advice offered. Users could set it to their own needs.
They could be 3rd party Anti-virus applications, the service for Nvidia/AMD Graphics card drivers, etc.
If the service is highlighted, it means that service is running at the moment. The grey means that service is stopped.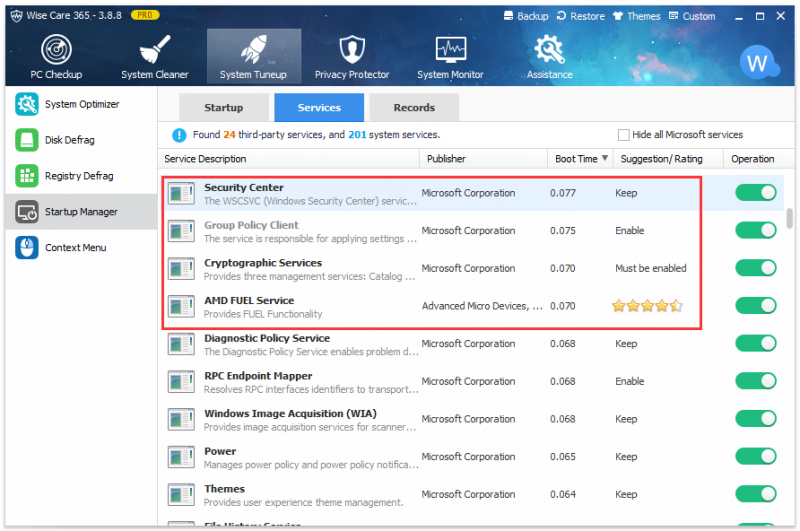 (3) Check the operations done and restore if needed throng Records tab.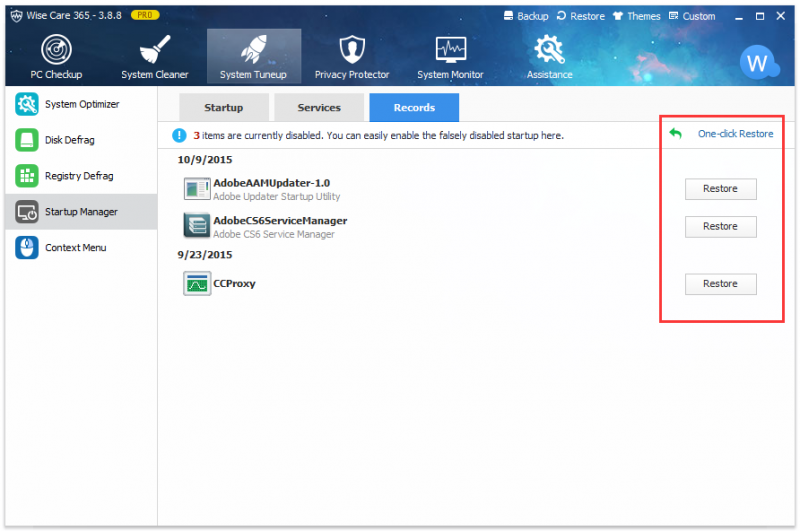 5. Make sure your PC is clean
Virus and Trojan will slow down the booting and running speed of PC. It's very necessary to keep the system clean. From Windows 8, Windows system includes its own security software of Microsoft - Windows Defender. You could run Windows Defender to protect your system from virus infection.
Solution 1
Click the Notification icon in Task bar at the right-down corner of your desktop to open Action Center. Click All settings – Update & security – Windows Defender – Use Windows Defender.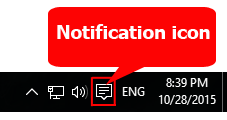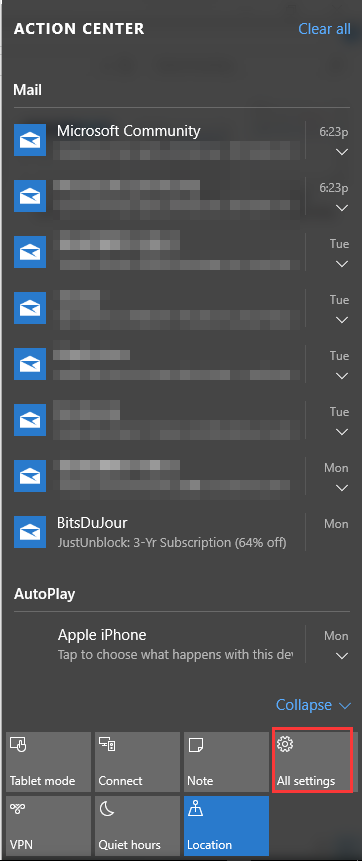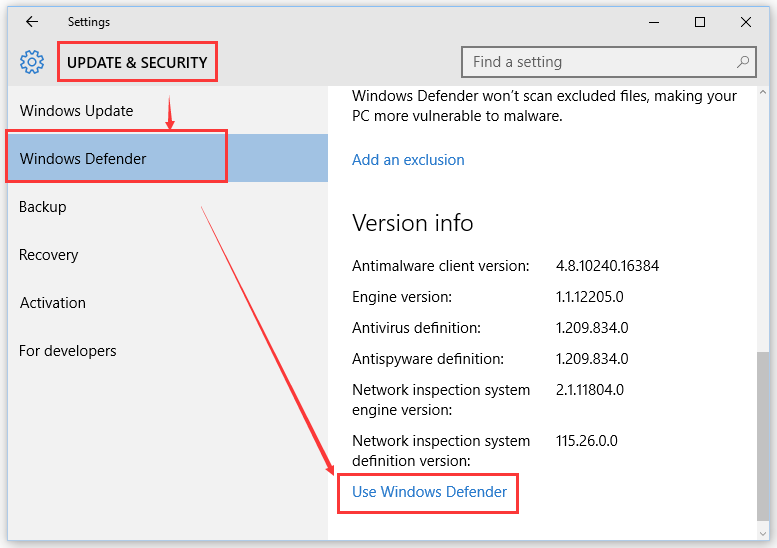 Solution 2.
Input "Windows Defender" in Cortana
6. Other optimizing items for speeding up the booting time.
(1) System Tuneup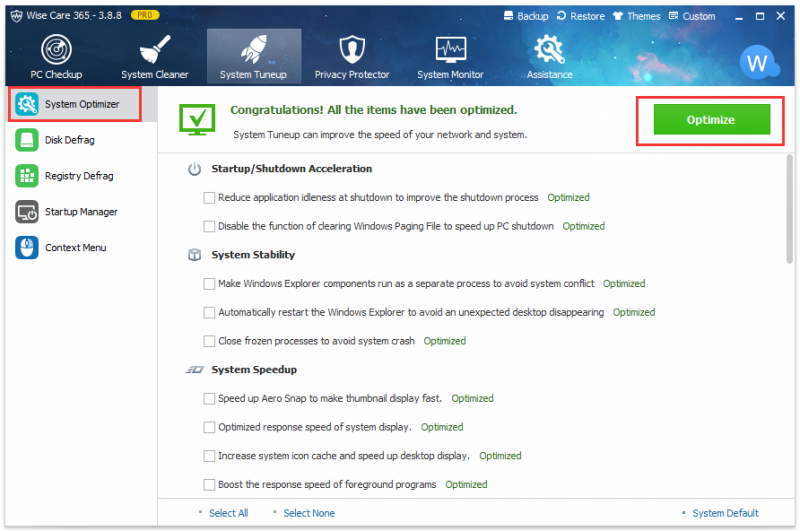 (2) Disk Defragmentation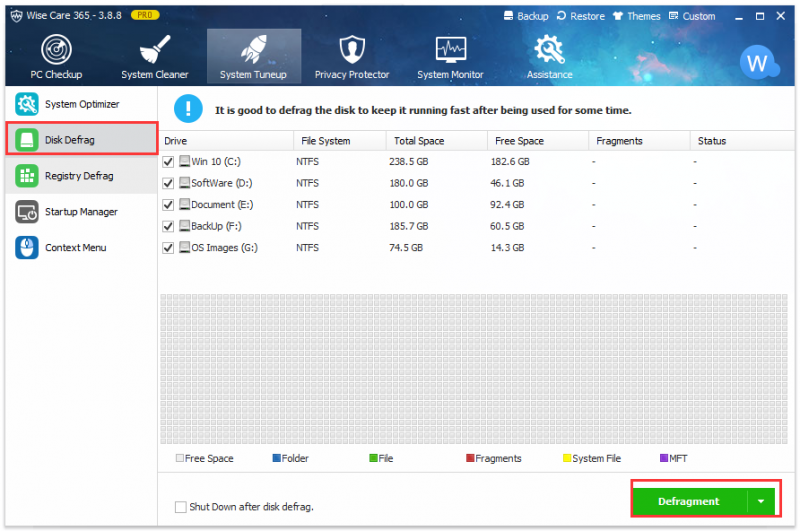 (3) Registry Defrag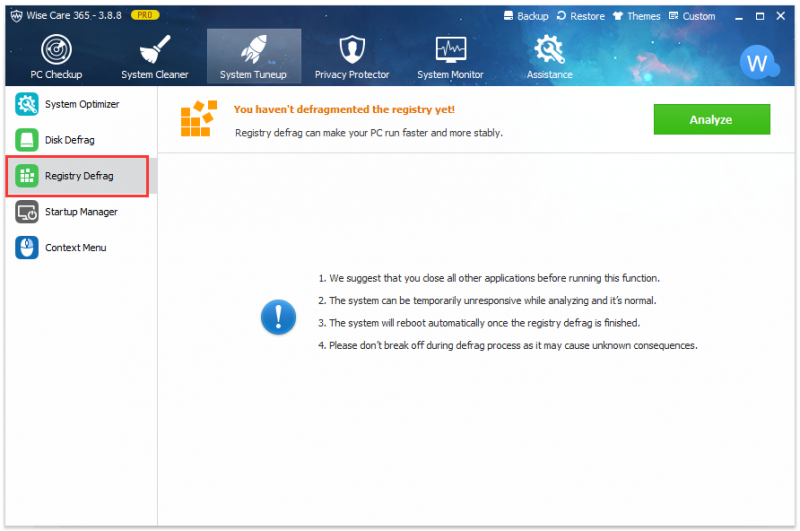 (4) Clean up junk files from PC system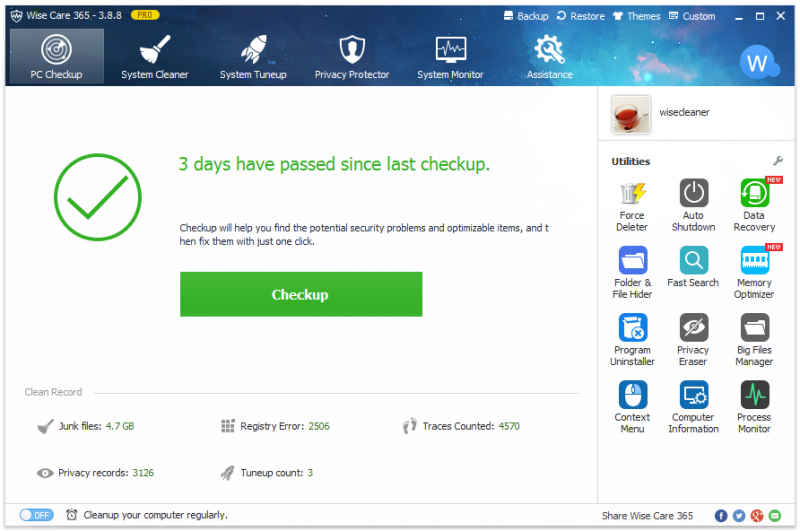 (5) Simplify the Context menu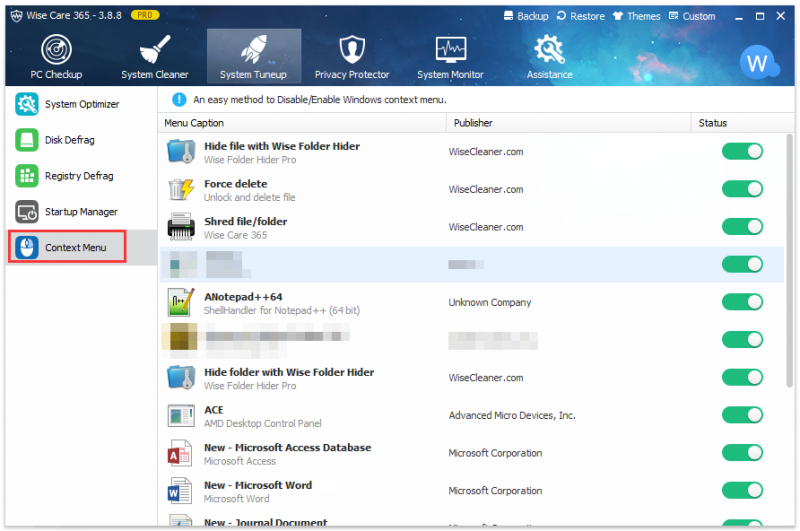 (6) Switch on "No GUI boot" option
a. Input "msconfig.msc" in "Cortana" to open up System Configuration.
b. Click "Boot tab"
c. Tick "No GUI boot"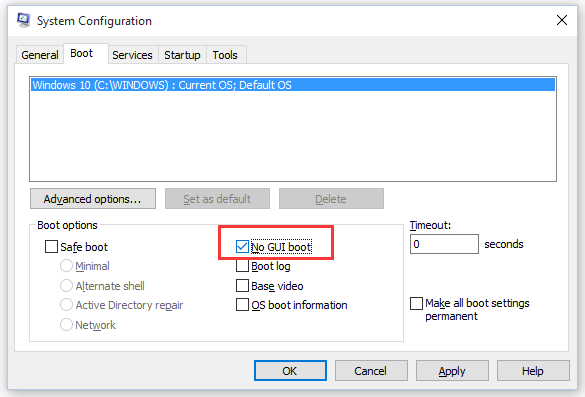 (7) Optimize BOIS Start-up options (for advanced user only) like closing Fancystart, closing booting password, setting Primary boot device etc. Pls check out Mainboard Manual for items being optimized.