Have you ever found yourself waiting for your computer to finish a process so you could shut it down? Or do you find yourself leaving your computer on all the time, even though you know a healthy system needs to be restarted periodically? This article will tell you how to get your computer to shut down at a time specified with by you.
Wise Auto Shutdown is a freeware utility that can turn off your computer automatically. With simple settings, it can shut down, log off, and restart your computer at a schedule time. Have a try now!
How to schedule computer to shut down at a certain time?
Here, we will show you step by step. Just follow us!
Step 1: Launch Wise Auto Shutdown
Download and install Wise Auto Shutdown. You will find the task and time are designed into separate parts.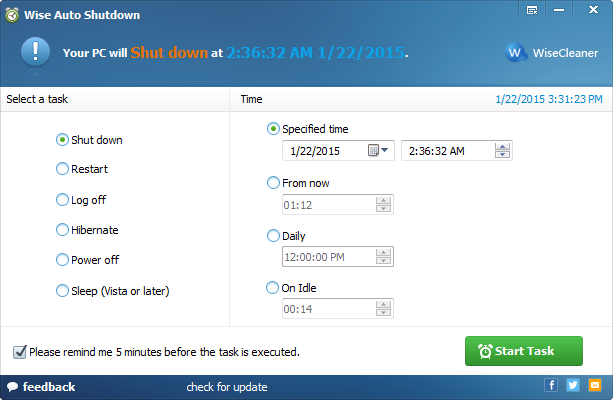 Step 2: Set a task
Select the task of "shut down" on the left. Meanwhile, you can make some settings like specified time on the right.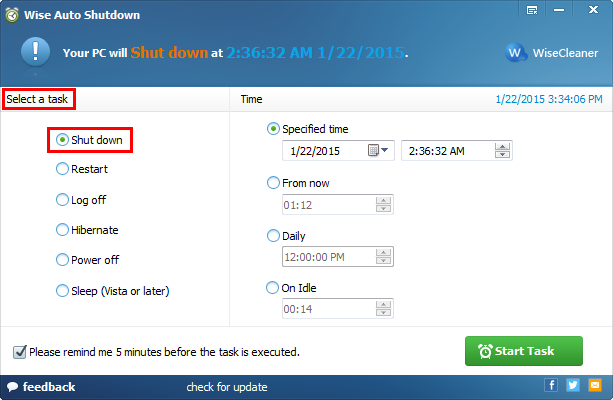 Step 3: Run the task
Here you can set the task execution time and then click "Start Task".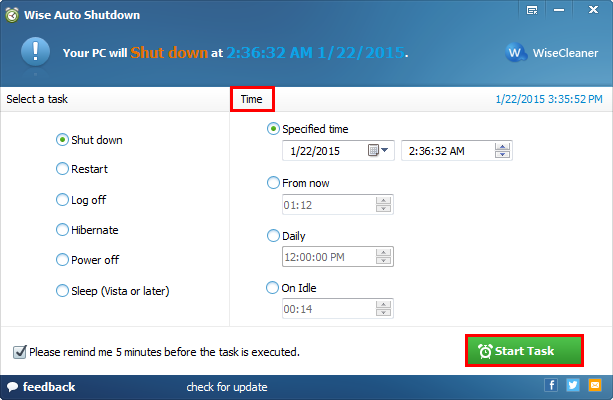 Step 4: Receive a reminder
A reminder will pop up to inform you according to the time you set.

Conclusions
Wise Auto Shutdown enables you to set the PC to shut down, restart, power off, log off, sleep or hibernate on a regular basis or only once, at a specific time. It makes your power management much easier and more convenient. If you have any questions, please contact us by leaving a message.