Cookies are small files placed on your computer by websites that store information about your preferences. Generally speaking, cookies refer to cached data, including personal information of citizens such as user names, passwords, registered accounts, and mobile phone numbers. Cookies can improve your browsing experience by allowing sites to remember your preferences or to avoid having to log in every time you visit certain sites. However, some cookies may compromise privacy by tracking the sites you visit. Here we will introduce two methods to help you delete cookies. Please click here to learn more about Whar are Cookies and Sessions.
Method 1 Delete Cookies in Microsoft Edge
Step 1: Open the settings in Microsoft Edge
Open the Microsoft Edge and click the "…" (settings and more) button in the upper right corner of the page. Scroll down to find the "Settings" option.

Step 2: Open "Privacy, search, and services"
Select "Settings" > "Privacy, search, and services".
Step 3: Choose what to clear
Under "Clear browsing data" > "Clear browsing data now", select "Choose what to clear".

Step 4: Set time range
Under "Time Range", select the time.
Step 5: Clean cookies
Select "Cookies and other site data" > "Clear now".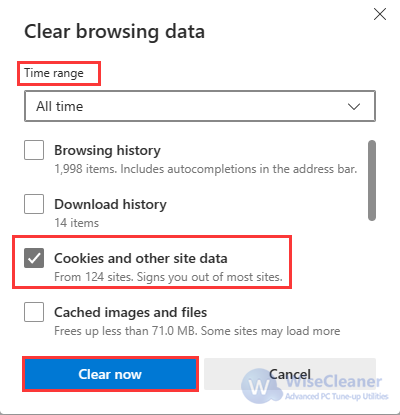 Method 2 Use Wise Care 365 to clean Cookies
If you think the above steps are cumbersome, then I recommend you to use Wise Care 365, which can help you clear some cookies easier.
Step 1: Run Wise Care 365.
If you have not installed the latest version of Wise Care 365, please click here to download the latest version.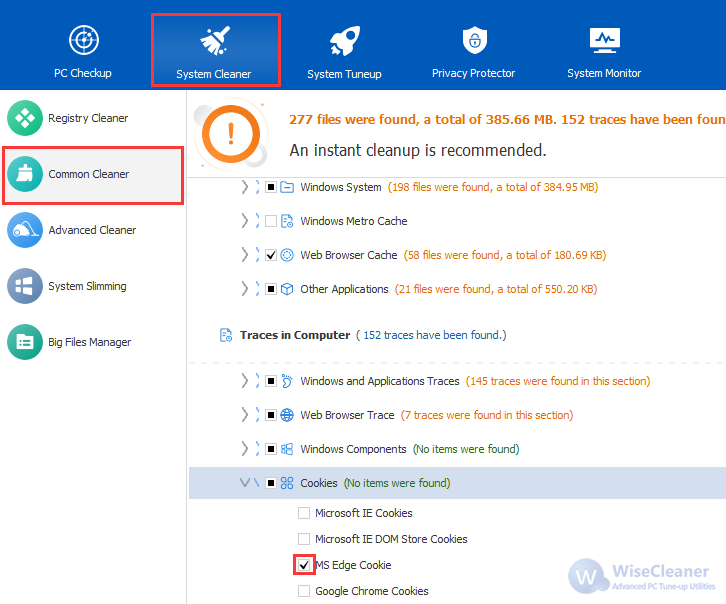 Step 2: Tick MS Edge Cookies
Click "System cleaner" > "Common Cleaner". Pull down the cookie open check box and check "MS Edge Cookie".
Step 3: Scan and Clean
Click the window green button "Scan". Click "Clean" after the scan is complete.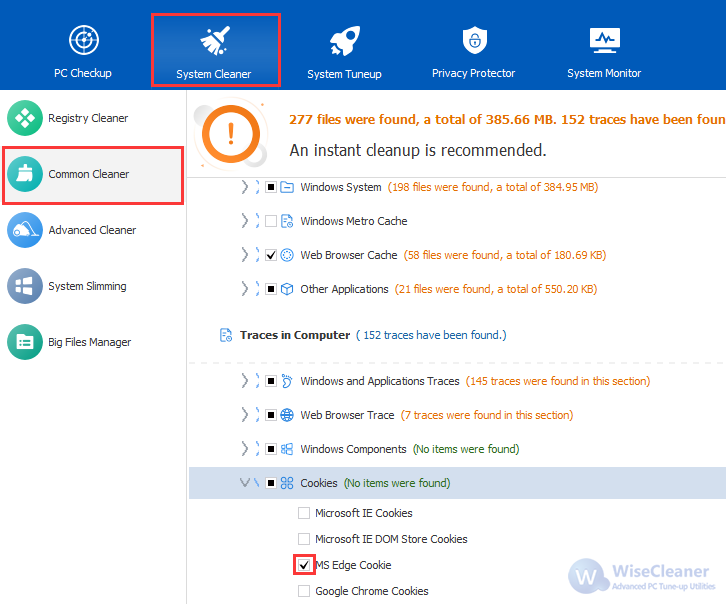 You can also choose to use the PC checkup function to delete cookies with one click. However, Wise Care 365 disables the function of deleting cookies by default. You need to follow the steps below to enable it when using it for the first time:
Step 1: Find "Custom Traces"
Click on the upper right corner of the window "Menu" > "Settings" > "Custom Checkup" > "Computer Traces".
Step 2: Tick "MS Edge Cookies"
Check "MS Edge Cookie" and click "Save".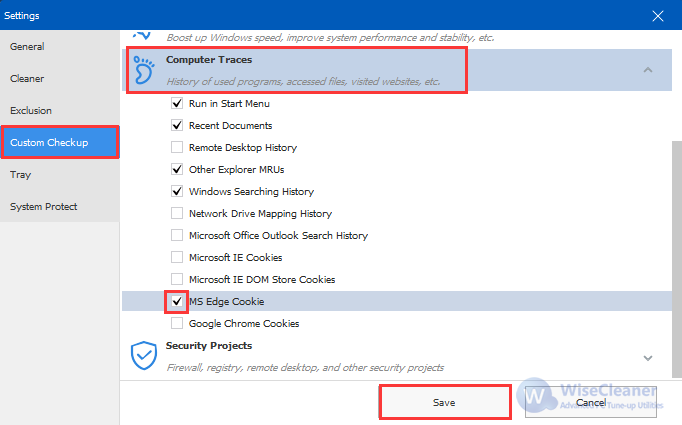 Conclusion
This is How to delete cookies in Microsoft Edge. In addition, Wise Care 365 can also delete cookies of other browsers conveniently and quickly.