We often miss our scheduled appointments and fail to prove our worth irrespective of a fool-proof plan, simply because of poor time management. Instead, we tend to learn and improve our skills for career growth and opportunities but fail to consider the importance of time management in our daily lives.
Poor time management skills can result in:
Lack of focus and procrastination
Unwanted stressUnwanted stress
Missed appointments and deadlines
Poor professional reputation
Inefficient workflow and delivery of poor work quality
Hollow workplace relationships
Imbalance in work and life
Time management is a planned process to smartly prioritize and have conscious control of time spent on each specific activity. It helps you increase your efficiency and maintain a better work-life balance. If you have not started to manage your time yet, then stay tuned to understand its life-changing benefits.
12 Benefits of Effective Time Management
Here are 12 benefits of effective time management that can improve your life and work quality in a healthy manner.
1. Clear daily goals:
You can simplify your day by planning the time management and organization of specific activities well in advance. Plan out your objectives to start working on them immediately without wasting time.
2. Streamlined decision-making:
Decision-making skills start from planning and deciding your schedule. When you plan wisely ahead of time, you make more accurate and wise decisions without any haste. This process helps build and improve your ability to recognize your priorities.
3. Improved work quality:
Since each activity is allotted a specific time, you can work on improving the quality of your task, considering all the aspects and completing it correctly. But, of course, you can constantly improve yourself by finding better ways to accomplish a task.
4. Enhanced productivity and efficiency:
Time management helps build your skills to work more productively and efficiently without compromising work quality. It enables you to prioritize and tick off the urgent and essential tasks timely.
5. Delivers work in the desired time frame:
When you delegate specific time to each activity, your brain works more effectively and in a structured manner. It allows you to complete each task on time and meet deadlines in a focused way.
6. Lower levels of stress and anxiety:
Often work pressure leads to stress and anxiety, hampering your work and overall mental and physical health. However, time management helps you plan your tasks and reduce excessive stress levels.
7. Better relationships at work:
If you organize and manage your time well, others look up to you, rely on you, and be in charge of their own time too. Effective time management and constructive communication decrease workplace conflicts building healthy relationships.
8. Explore higher learning opportunities and career growth:
Punctuality in work increases your effectiveness and helps you earn a professional reputation. Your seniors will recognize your work and unlock the doors of promotion and other career opportunities.
9. Better work-life balance:
Spending a long time at work makes you feel tired all the time, and you may risk burnout in the long run. However, time management helps you achieve your work goals and spend leisure time with your people at home.
10. Less procrastination:
When you are not clear about your goals, you procrastinate your tasks. But time management can help you stay focused and control your workload. This way, you can spend more time effectively working on more extensive opportunities.
11. Higher focus and less distraction:
Time management helps build focus that results in higher productivity, and in turn, it attracts opportunities. It helps you work smarter and in a more organized manner without distraction to living life in a balanced way.
12. Things fall in place:
Time management helps you stay focused, straightforward, clear towards your goals, and relaxed to feel energetic for the desired tasks. Things automatically and smoothly fall in place without much stress and give you desired outcomes.
Though we all know and understand the importance of time management; however it is not always possible to remember every minor detail of your work and appointments. In your busy schedule, you may forget to meet critical deadlines. So you can shed your stress by using an effective reminder tool like Wise Reminder to take care of every minute detail.
Let us have a deeper insight into this intelligent software.
Wise Reminder: An Effective Time Management Application

The Wise Reminder application is free software to effectively organize and manage your schedule and daily tasks and remind you of them as and when needed. It is beginner-friendly with a simple and super easy-to-use interface.
The tasks divide into only two categories to not complicate the user experience:
• Unfinished tasks
• Completed tasks
This schedule manager and reminder tool creates your tasks in under minutes and accurately reminds them so that you do not miss any scheduled appointments.
Let us take a deeper view into this fantastic application.
How Does Wise Reminder Help You In Time Management
Wise Reminder is a great and accurate time manager and a reminder to manage your scheduled tasks in an organized and effective way. Its other features include:
• Helps organize daily tasks:
Wise Reminder keeps track of all your schedules and daily tasks so that you are on time and do not miss any scheduled appointments. It helps you schedule reminders and manages a list of multiple reminders too.
• Postpones alarms if you are engaged somewhere:
By clicking on Remind me later, you can delay or postpone a reminder depending upon your unfinished task in 5 minutes to 2 hours. You can also deactivate your alarm or set it in snooze mode so the program can remind you again in a few minutes.
• Intuitive user interface:
Wise Reminder has a pretty concise interface, with the tasks divided into only two categories, Unfinished and Completed, to make the schedule more manageable. Of course, you can always create a new schedule in a few clicks in under minutes.
• Accurate reminder:
Suppose you have a busy and hectic schedule each day. Then you can organize your work more efficiently using the Wise Reminder app. It does not interrupt your work and runs silently in the system tray. Then once your set time is up, a pop-up reminder window will appear before you, displaying and reminding you of your scheduled task.
How You Can Use Wise Reminder For Effective Time Management
Now effectively manage your time and schedule your daily tasks with Wise Reminder with a few clicks.
Step 1: Install the Wise Reminder app
Install and launch the Wise Reminder app on your Windows PC. A simple screen displays Unfinished and Completed tasks on the app's main interface.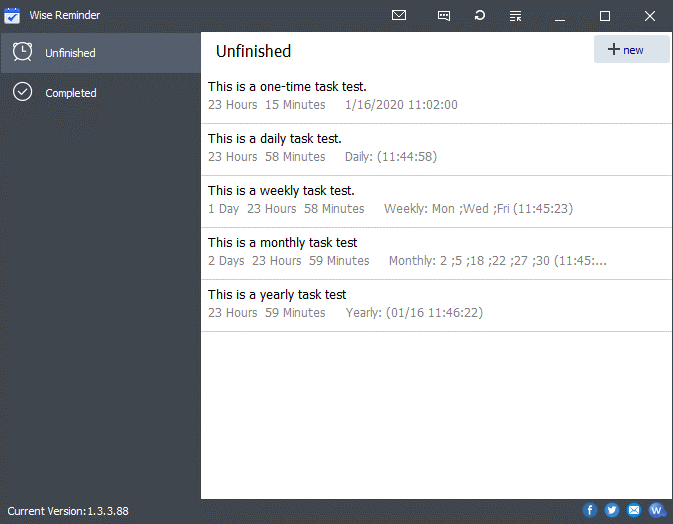 Step 2: Create a task
To start and create a task, click the plus (+) icon in the screen's upper right corner. Then, fill in the description in the next window, repeat (frequency), time, date, and ringtone.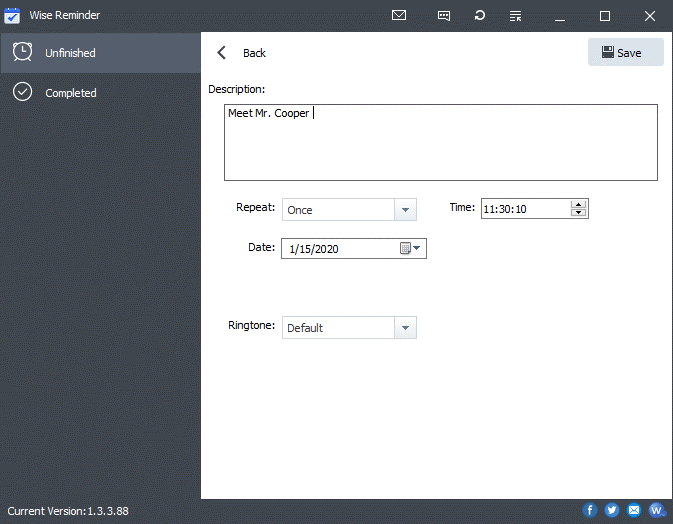 Note: The pop-up reminder window will appear depending upon your set time.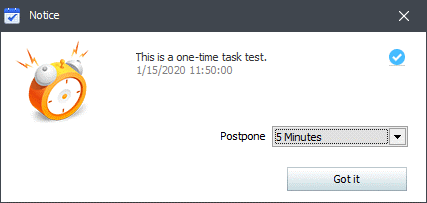 Step 3: Manage your completed tasks
Your scheduled task will move to the Completed list when you click the Got it button in the popped-up reminder window. Here you can also review all your finished reminders.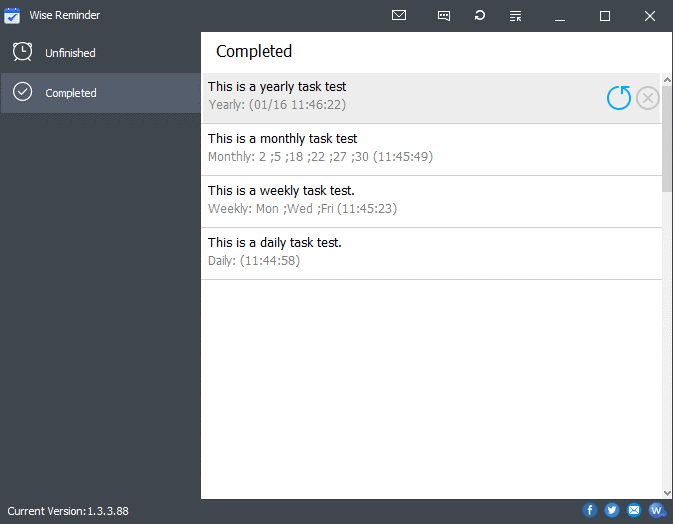 Additionally, you can choose to modify a task or reactivate it and remove any unwanted reminders.
Frequently Answered Questions
1. Is time management a valuable skill?
Time management is a crucial and essential soft skill required for any job. It includes prioritizing, organizing, delegating, strategic planning, and problem-solving skills.
2. What are the barriers to effective time management?
Some habits that can lead to problems in effective time management are: Low motivation, Overbooking multiple tasks, Lack of organization, Procrastination, Not enough rest.
3. Does age affect time management?
No. Time management is an ongoing process that you can take up as a habit to stay more organized and focused. It has nothing to do with maturity and age, so you can start managing your schedule now.
Wrapping Up
Time management is essential in all aspects of life, irrespective of occupation. However, if you manage your time at the workplace effectively, it attracts promotion opportunities and career growth too. Moreover, it helps you maintain a disciplined life where you have more energy in your free time.
You can start planning your time productively from today and see wonders happen. To schedule your time more wisely, you can use the Wise Reminder tool to shrug off your stress and focus on carrying out more critical work.
Wise Reminder effectively manages and reminds you of your tasks to maintain punctuality. Instead, it works in the background silently to not disturb you.