Whenever a user uninstalls or installs some programs, some changes appear in the registry keys, leaving some of them isolated, corrupted, or misplaced. When registry fragmentation takes up a large amount of disk space, it can degrade performance and slow down the computer. Therefore, it is necessary to defrag the computer registry, which can help you free up space and improve the computer's performance. This article will show you how to defrag the registry and improve the performance of your computer.
There is no tool in the Windows system that can defrag the registry, so it is recommended to use Wise Care 365, which can help you clean up the registry more safely. In addition, it has numerous functions to help you solve various computer problems.
How to defrag the registry to improve computer speed?
Notice: In order to avoid the loss of registry information, it is better to back up the registry before defragging.
Step1. Download Wise Care 365.
You can click here to get the download link of Wise Care 365 safely.
Step2. Open the Registry Defrag.
Run the Wise Care 365, select the System Tuneup at the top of the window, then click the Registry Defrag on the left side of the window.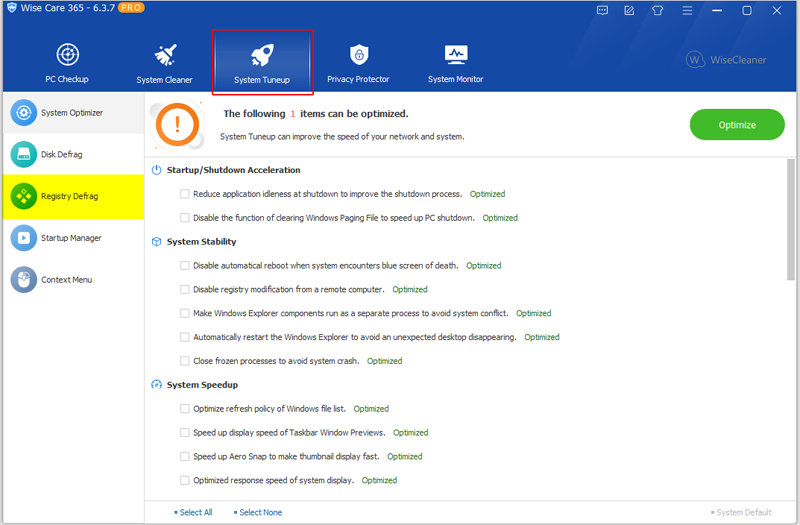 Step3. Analyze and defrag the registry.
Check Automatically create a system restore point at the bottom right of the window, then click the Analyze button to find registries that can be cleaned up, and then click the Defragment button to free up space.
Notice: After selecting the defragment, a pop-up window will appear, requiring you to save the files because the computer will restart immediately after you finish defragmenting the registry.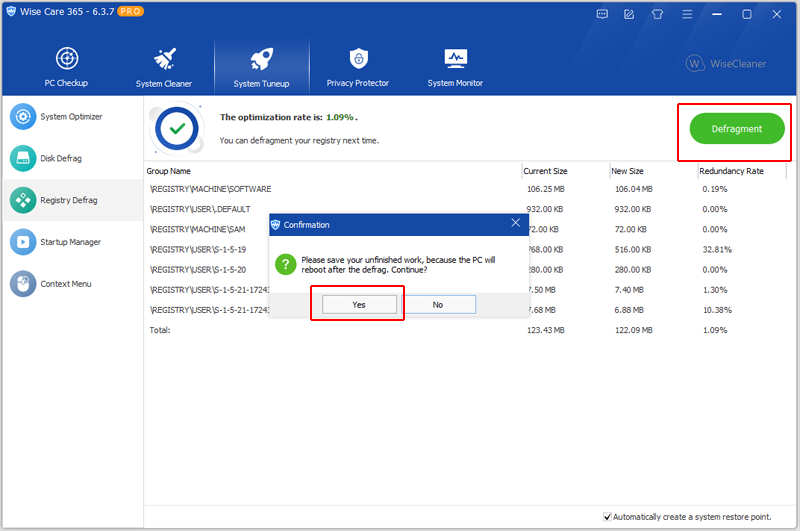 Conclusion
The registry is extremely valuable in Windows. It stores the settings of extremely vital information in the system. As time goes by, the registry is constantly deleted, added, or changed data, making the registry become fragmented, and affecting the computer's running speed. Using Wise Care 365 can help you defrag these registries well, thereby improving the performance of your computer.