Among that huge amount of entries One Disk Cleaner may provide with for clearing, there always have some exceptions that need not to be taken as targets, according to individual will. For smarter cleaning, WiseCleaner provides users with suggestions about filters applied to Wise Care 365 and Wise Disk Cleaner. Please take the following "The Most Unwanted To Be Cleared Entries" as a reference.
Today, we are going to take a look at Taskbar Jump Lists & Quick Access.
Where are they?
Taskbar Jump Lists:
%appdata%\Microsoft\Windows\Recent\AutomaticDestinations\
Quick Access:
%appdata%\Microsoft\Windows\Recent\CustomDestinations\
They have been widely used since Win 7 rolling out. As you could see above, they are two separate subfolders under the same directory, offer a quick look at the recently accessed contents came from either processes pinned in Taskbar or File Explorer. Typically, they can be found existing in the group of Windows Traces in the same kind of cleaners.
How to keep Quick Access and Jump List?
Step 1. Deselect Taskbar Jump List in Wise Care 365.
If you don't want both of them to be removed, just get the following entry unticked (It is not the Recommended clean item, so unchecked by default).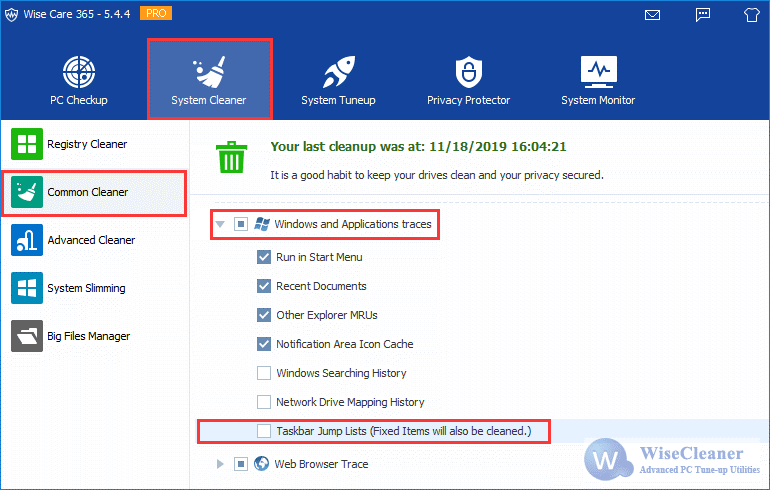 Step 2. Add the jump list folder to the Exclusion list.
On the other hand, if you just want either of them to be scanned and removed, please add the one you want to keep to the exclusion list, copy and paste the path to Settings >> Exclusion >> Add a folder.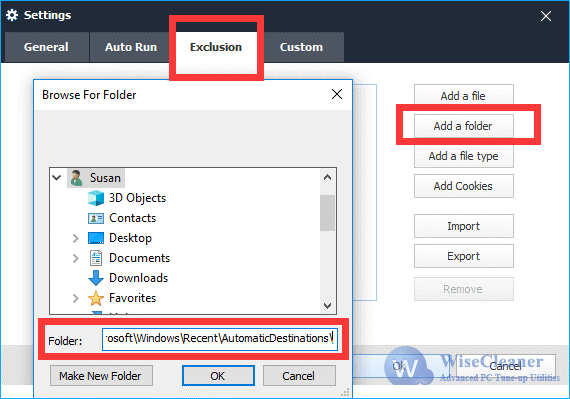 Welcome to leave your review on our products. Whatever you said, we will respond.