Slow Internet speed is always unbearable, especially when we are playing games, watching films or opening a web page. As we known, the internet speed depends on several factors. In this article, I will show you some tips you can boost your internet speed. Hopefully is useful for you.
1. Password protected your Wi-Fi
Anyone can use your Wi-Fi if you don't set a password to protect it, which can cause speeds to drop. Luckily, most providers can supply you with a password protected router, and you need to set it up with the steps below.
Step 1: Enter the IP address into your web browser to open your router settings.
Step 2: Log in with the admin password and username which are printed on the router, but if you can't find it, please check with the provider.
Step 3: Set up a password to secure your Wi-Fi.
2. Check the router
The shorten distance between the router and your computer, the better surfing experience you will have. So please don't make the router far away from your PC. In addition, you also need to check how long your router has been used, a new router will be helpful to speed up your internet speed.
3. Web Browser
If you are using a browser for a long time, there will be some useless files and plug-ins that can make your internet slow down. No matter which browser you are using, don't forget to clear caches regularly, and disable the additional add-ons, toolbars which might be installed in your browser. You can release more browser space by deleting some useless extensions in the setting of the browser.
4. Scan for Virus
Sometimes the virus on your computer will slow down the internet speed, I usually use Wise Anti Malware as daily scanner. It can defense against virus, malware, adware, ransomware, phishing, spyware and potentially unwanted programs. Have a try!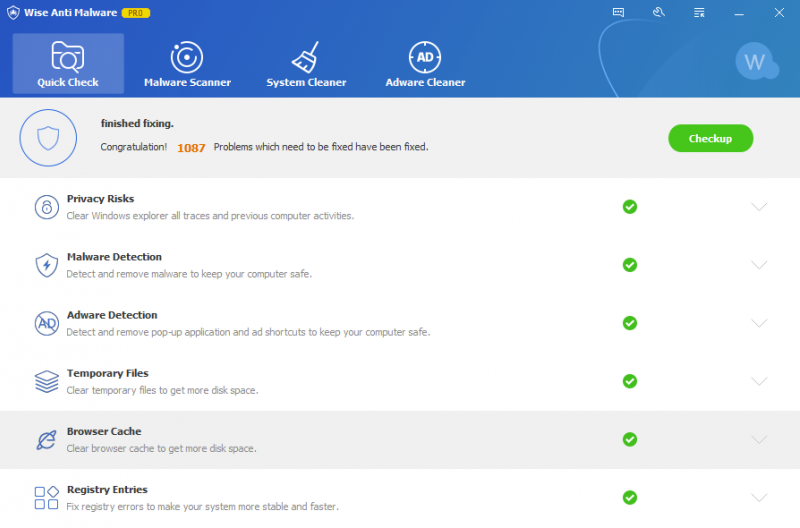 5. Clean up your computer
No matter how fast your computer might be, after you install some programs, load lots of tools, and download untold junk files from the Internet. Normally the slowdown might happen so gradually that you hardly notice it. Optimizing your PC with Wise Care 365 will boost internet effectively by releasing more storage and running space.