How to Free up More Available Memory
Wise Memory Optimizer is a free memory optimization tool for Windows systems, supports Windows 11, Windows 10, and earlier Windows OS, even the Windows XP. With the exclusive memory defrag technology, it can help you clean up the In Use memory and Cached memory, increasing the available memory, thus making the applications run faster.
Step 1: Overview of the main interface
The main interface shows the In Use memory and Available memory clearly. In the Windows system, Free memory plus Cached memory equal Available memory.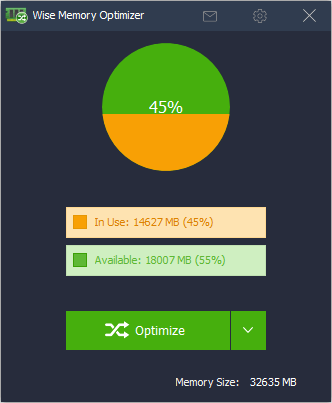 The big green button at the bottom has two parts. On the right is a drop-down menu, it can set operations for the buttons on the left, Defrag Memory, Free up memory, and Empty Standby memory. Click the left can optimize memory immediately.
Note: "Defrag Memory" will take more time than releasing, and the In Use memory will first increase and then decrease during defragmenting.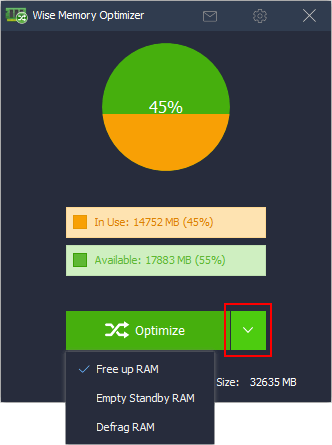 Step 2: Set up automatic memory optimization tasks
If you want to have it optimize memory automatically, please click Settings and choose Auto optimization. The option "Run when CPU is idle" is highly recommended.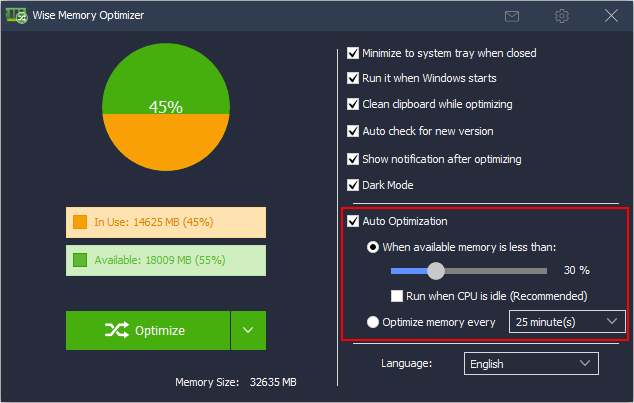 Step 3: Manually optimize memory at any time
Wise Memory Optimizer will usually be minimized to the notification area on the right side of the Taskbar. If not, please check the option whether Minimize to system tray when closed is checked.
Right-click on the tray icon and select Optimize. It will optimize in the background and tell you how much memory is released when it is done.