Managing massive volumes of vital data can be challenging. So instead of deleting all the necessary files, you can create a backup by safely securing it. While choosing the right option is critical, here we have six ways to help you decide the best for yourself.
This article will lead you through some of the best and most convenient methods to secure and protect your files, photos, videos, etc., from unauthorized access. So let us read ahead to gain deeper insights.
6 Ways to Secure Your Private Photos and Data
Here are the 6 ways to securely store your photos, videos, personal files, and other personal data.
1. The best method to secure your photos and other private files is by uploading them to a secure cloud storage service. These services work across multiple devices, including mobile phones. A few cloud storage services provide end-to-end encryption, privacy features, and of course, cloud backup, too. However, you must create a strong password to secure your online account.
2. Using an external storage drive like a hard disk drive (HDD) or a solid-state drive (SSD) is the most cost-effective method to secure your photos and files. Since the storage is offline, it is unharmed by malicious internet attackers.
Additionally, it is portable, so you can tag it along and access it (without the internet) anywhere you go. You can even encrypt the entire drive for enhanced security.
3. Since all the modern and latest Android and iOS devices have the built-in encryption feature enabled, you can consider encrypting your mobile device to keep your photos secure.
Note: You can encrypt your files using the device settings for Android (if using a microSD card). For iOS devices, you can enable data encryption by setting up a passcode.
4. If you are a professional or a business house with a massive collection of photos and other private data, you can try using a Network Attached Storage (NAS) Device. It is a reliable tool that includes a cluster configuration to preserve the unnecessary copies of your critical files and folders for higher safety.
5. If you are tech-savvy or have advanced and expert computer knowledge, consider creating your own server to take control of your files and data and organize it neatly. Create a local or cloud server and deploy software to effectively upload and manage your files and folders.
6. You can also use a reliable and trustworthy third-party encryption tool/software to encrypt your files and photos. Alternatively, you can create a folder of your files and encrypt it. All it takes is a master password to decrypt the hidden and locked folders. However, not all tools are secured, and some may even charge you a handsome amount.
These are some of the best-sorted options to securely store your photos, personal files, videos, and other personal data. However, each method has a drawback of its own. Therefore, you must thoroughly check to store your private data before opting for any option.
However, you can rely on a safe and secured professional encryption tool like Wise Folder Hider for hassle-free encryption. Let us know in detail about this encryption tool and its working.
Wise Folder Hider: A Data Encryption Tool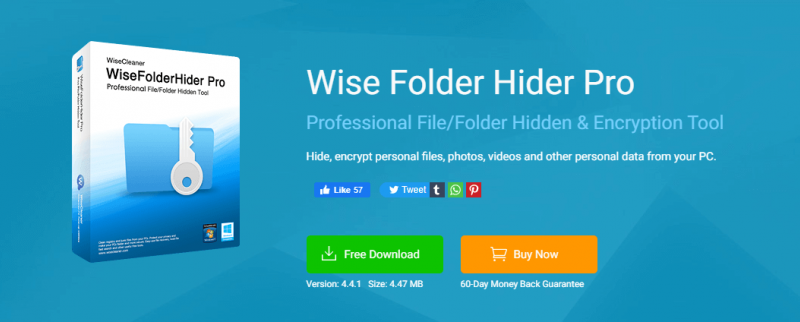 Wise Folder Hider is a professional encryption tool that encrypts and hides your files and folder effortlessly. It is a simple-to-use program that protects your sensitive information from unauthorized access.
Its double password protection feature hides and encrypts all photos, videos, files, folders, USB drives, and encrypted drives from prying eyes. Instead, this app takes a pretty low CPU space to install. So let us now check some of its features and benefits.
How Can Wise Folder Hider Be Your Best Choice
Wise Folder Hider can be your go-to option to protect your data from prying eyes. Let us have a look at its prime features.
1. Encrypts files and folders
Wise Folder Hider encrypts your files by creating a partitioned encrypted drive. It lets you hide and encrypt your files and folders even if the program is closed. Your data and files will be safe from prying eyes through its excellent protection and security. No person can open, read, modify, delete, move or copy the encrypted files and folders.
2. Hides files and folders
Now hide your files and folders with the advanced protection of Wise Folder Hider. It enables you to protect your files and folders from any unauthorized access and deletion. The security increases with a two-level password for a specific file, folder, and drive.
3. Hides USB drives
Suppose you have a USB drive and need to share some of your files with others. Now you can relax as all your files are completely secured from prying eyes with the advanced protection of Wise Folder Hider. With this software, you can hide and password-protect your data on the USB stick with one click.
4. Makes files and folders portable
The Wise Folder Hider lets you manage the encrypted files in batches. The great news is that these encrypted drives are removable and portable. So, for example, you can create an encrypted drive on the removable drive or use it like a USB drive.
5. Provides various layers of password protection
With the multiple password protection setup, your files and personal data are completely secured with the Wise Folder Hider. Firstly, you must create a log in password. Then when you enter the program, you can set a second-level password for each photo/file/folder/USB drive or encrypted drive. No one can access your account and protected files without your permission and secure password.
6. User-friendly interface
Wise Folder Hider has an intuitive and user-friendly interface. Instead, when you install the program, the context menu automatically loads with Hide File/Folder. So you can hide your files and other personal data by right-clicking them, even without launching the app.
How to Hide and Encrypt Your Files & Folders Using the Wise Folder Hider
Now hide and secure your files and folders with the double password protection of the Wise Folder Hider using the below-given steps:
Step 2: Set up a login password
If you're using the app for the first time, ensure setting up a login password after launching it.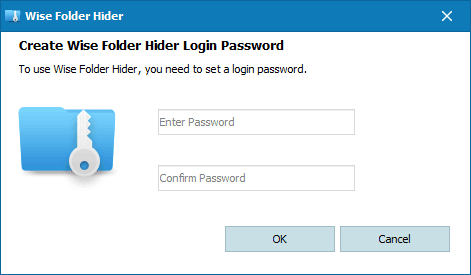 Note: If you ever forget your login password, you can click on the Forgot Password button at the lower-right corner to reset a new one. You will receive your password reset link on the registered email address.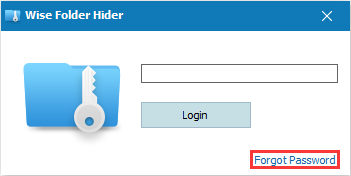 Step 3: Hide your personal data
Now hide your file, folder, or USB drive to protect them by dragging and dropping them. Alternatively, you can click the buttons at the bottom to add them to the program.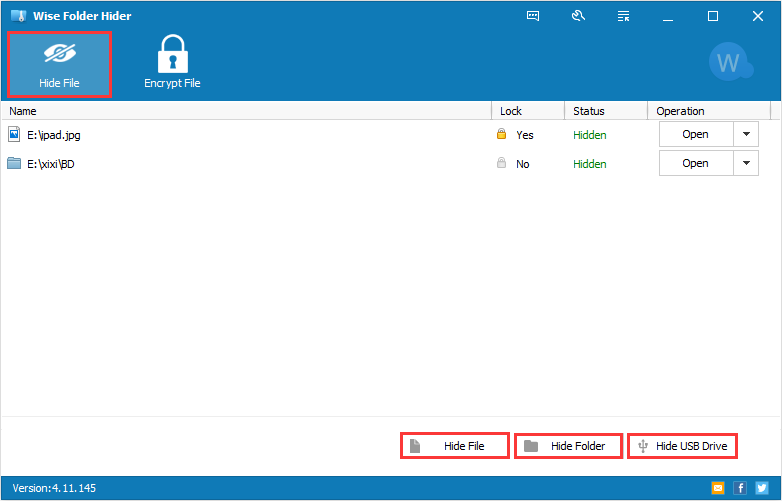 Step 4: Create a password
Create a strong password to secure your hidden files, folders, and USB drives. You can unhide all the hidden files at once using the right-click menu.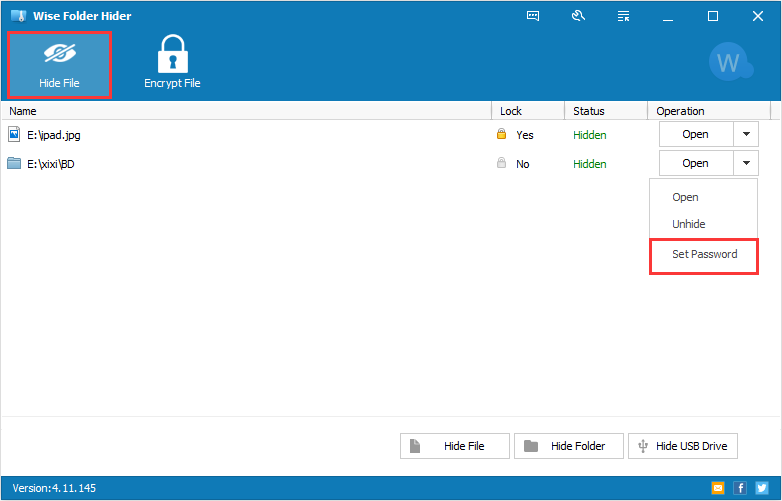 Note: If you wish to encrypt your files and other data, consider using the Encrypt File feature of the Wise Folder Hider.
Step 5: Encrypt your files
Click the New button to create encrypted lockers to safely save your files, folders, and drives. Set the locker size depending on the file size you intend to encrypt. For reference, it will display your available space.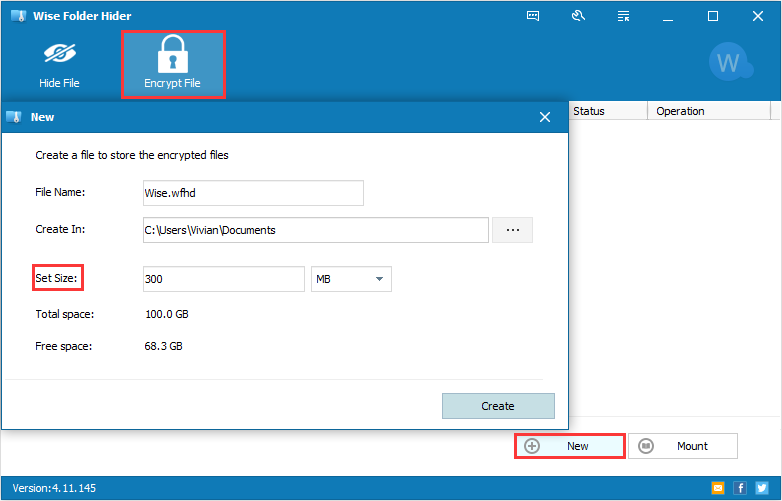 Step 6: Set a password
Once your locker is created, add/create or edit your hidden files and other folders. You can set different passwords for different lockers for complete security. For example, you can click the Mount button to open the hidden locker.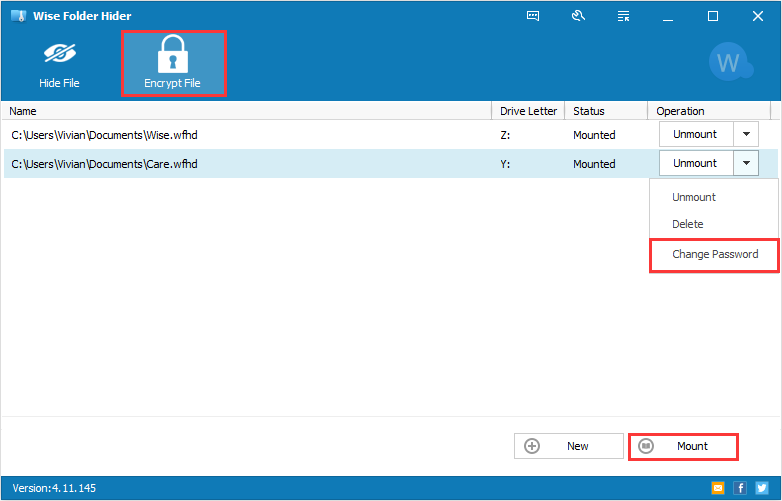 Note: You can use a removable storage device to keep your encrypted lockers in a place other than your HDD.
Frequently Asked Questions
1. What is the limit of Google Drive storage?
Google Drive lets you store 15 GB of data for free.
2. How can I secure my system from potential threats?
You must install Firewall to block harmful programs, viruses, and spyware before they gain access to your system. Usually, hardware-based firewalls (those built-in network routers) provide a higher and better level of security.
3. Can I save my photos on my mail ID?
Yes! However, you must have two mail IDs to save your photos as mail attachments. Simply compose a new mail > Attach images> Add your another email ID (as the mail recipient). The attached images will save to your mail server.
Wrapping Up
There are numerous ways to secure your photos and personal data and keep them safe. Depending upon your need, you must choose the best suitable option. Since each method has limitations, you cannot trust any technique blindly.
However, we recommend you use the Wise Folder Hider to secure your files and folders completely. In addition, its intuitive and advanced technology provides double password protection to hide and encrypt your files from unauthorized access.