Have you ever found a large amount of duplicate videos on your Windows hard disks? Did you spend much time trying to delete them one by one, only to find there were too many of them to be removed completely? Then your disk space was taken up by more and more duplicates, and the speed of your computer slowed down.
As a software tool designed to locate and remove duplicate files on Windows PC, Wise Duplicate Finder can find and delete duplicate videos thoroughly from the hard disk to free up space and make the computer run faster.
Step 1. Download and launch
Click Free download Wise Duplicate Finder to download from its official website. After downloading, install it by following the installation steps and then launch it.
Step 2. Customize a scan mode
When you open Wise Duplicate Finder, there will be four tabs on the toolbar. Select Home tab. Click on Compare mode and customize the scan mode which suits you best.
Match Name and Size consumes the least time, and shows the most number of files. But it can be misjudged sometimes.
Partial Match takes medium time, and shows less files than the previous one.
Exact Match consumes the longest time, and shows the least number of files.

Step 3. Filter the size and type
Set the file size and type of duplicate files to be found by setting the Minimum and Maximum value and selecting Video files in the drop-down menu of File type.

Step 4. Select locations and start to scan
Click on the icon which looks like a folder to select one or more locations, or select a specific folder by clicking Add Folder. Click on OK and then start Scan with its fast and smooth duplicate file scanning engine.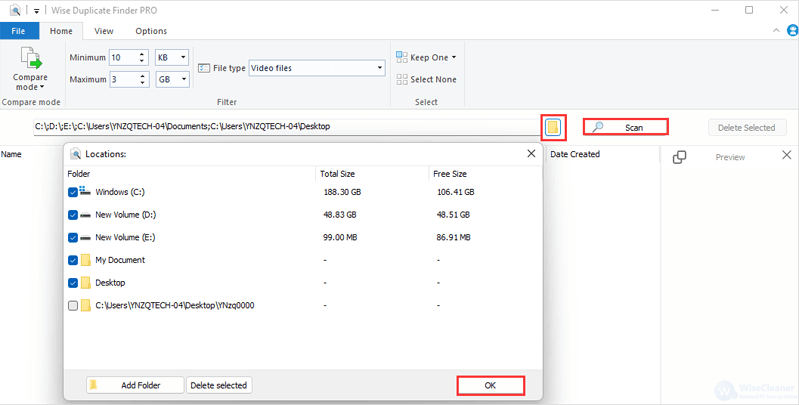 Step 5. Delete the files
Wise Duplicate Finder allows users to preview the files first on the right Preview pane. After that, select and check the files you want to remove manually, or simply select Keep One on the toolbar. It is recommend to use Newest Created on its drop-down menu. Click the Delete Selected button in the upper right corner to remove duplicate files safely.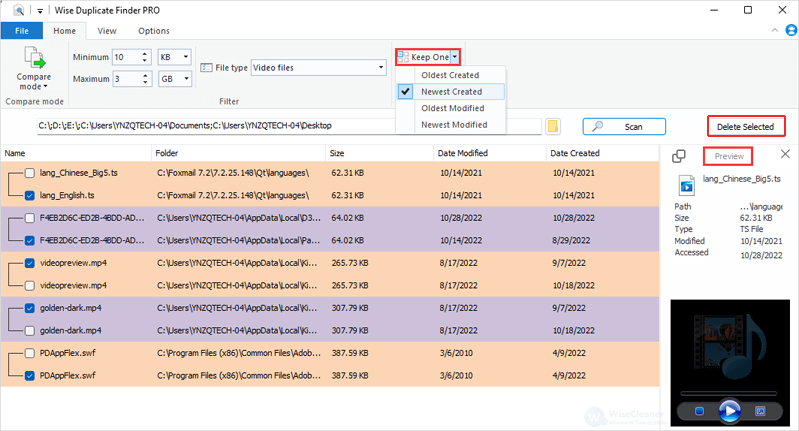 Conclusion
In this tutorial, easy-to-use Wise Duplicate Finder offers a better way to find and delete duplicate videos on Windows, thus freeing up the valuable disk space and making the computer faster. If you have any thoughts or issues about this article, please contact us. We will reply to you within 72 hours.