With the rapid development of technology, the application scenarios of passwords are very wide: logging in to a computer, encrypting files, and bank statements. Passwords have permeated all areas of life. It concerns the security of personal information, data and property. So it is very necessary to set a safe and strong password.
Features of Safe and Strong Password
Safe and strong passwords all have one thing in common: complexity. When setting a password, the site will give a reference value for the password strength. Typically, sites give strength cues as "weak," "moderate," and "strong." The stronger the password hint, the more complex the password. Of course, the more complex the password, the more secure it is.
Notes on setting a password
Setting passwords should avoid single-character passwords, such as 123456 or abcd1234. This type of password has a single form and simple character logic, making it easy to guess.
In addition to a simple form of password, try not to try personal information as a password. Typical examples of such passwords are birthdays, names, and mobile phone numbers. The information is public and easily deciphered.
In addition, multiple accounts should avoid trying the same password. If multiple accounts try the same password, once the password of one of the accounts is deciphered, the security of other accounts is difficult to be guaranteed.
How to generate strong passwords
Step 1: Download Wise Care 365
Since multiple accounts are set up with passwords, a password generator is very necessary. Here we recommend you download Wise Care 365. Password Generator is one of the important features of Wise Care 365.
Step 2: Set the password complexity.
Run Wise Care 365, switch to Privacy Protector > Password Generator.
Weak: represents weak level password protection;
OK: It means that the password protection capability is at a medium level;
Strong: means the password has strong protection ability;
As we mentioned above, the password should try to meet the Strong level.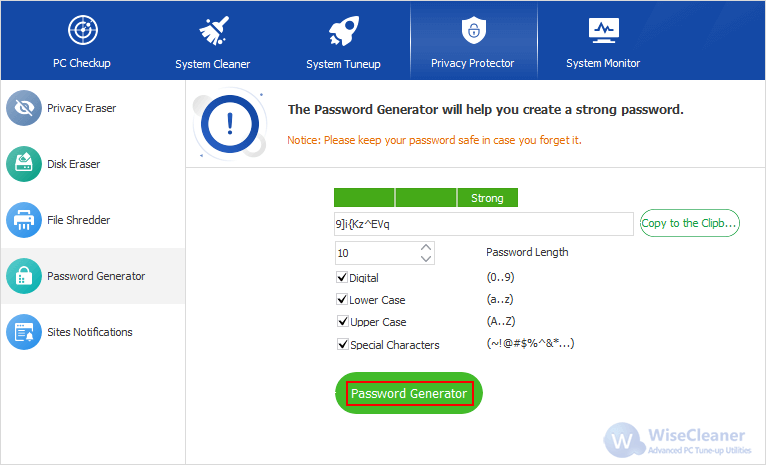 Step 3: Generate a password.
Click Password Generator to generate a secure and strong password. Click Copy to clipboard, the password can be copied somewhere else.
Conclusion
Passwords are closely related to people's lives. Passwords play an important role in the normal operation of programs such as provincial authentication, online transactions, and personal information protection. Set secure and strong passwords, everyone should be aware of this. Password generators help people quickly generate standards-compliant passwords. If you want to know more, please contact feel free to Contact us.