Home
>
Think Tank
> How to Locate Files & Folders Quickly in Windows 11
May 25, 2022
How to Locate Files & Folders Quickly in Windows 11
Many files and folders are created using the PC. Over time, it may be difficult for you to remember the location of every file and folder. This is normal. Not everyone has a brain with super memory. However, it is also very necessary to master some PC skills. This article gives you some tips on how to quickly locate files/folders in your PC. These tips will help you increase your PC productivity and balance your work and life effectively.
Among the many files and folders created by the PC, some files and folders are frequently used. You can enable them on a daily or weekly basis. Some files and folders are used less frequently, and you only open them once a month or even once a year. Of course, as you know, there is no absolute relationship between how often a file or folder is opened and how long it takes. This is a comparative level.
Use Quick access to locate files & folders quickly.
Pin a folder to Quick Access
Step 1. Find and Open File Explorer.
When File Explorer opens, you'll be in Quick access. Quick access lists your frequently used folders and recently used files, so you don't have to dig through a series of folders to find them. Pin your favorite folders to Quick access to keep them at your fingertips
Tip: There are three ways to quickly find and open File Explorer.
Find File Explorer from the start menu;
Win+E shortcut key to run File Explorer;
Click the File Explorer icon in the taskbar;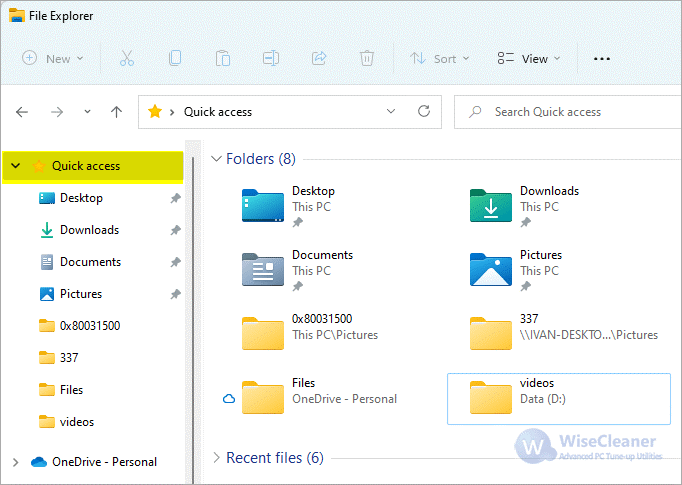 Step 2. Pin folders in Quick access.
Right-click the folder----Click Pin to Quick access.
Pinned folders are immediately displayed into frequently used folders for quick access.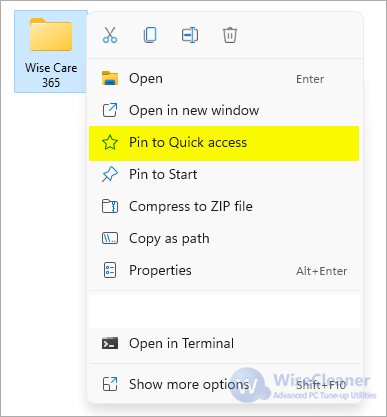 Remove folders in Quick access
If you don't want to see this folder anymore, you can remove it from the frequently used folder.
Quick access---- Right click on the folder---- Click on Unpin from Quick access.
Or, you can just need to click the pin icon to unpin it.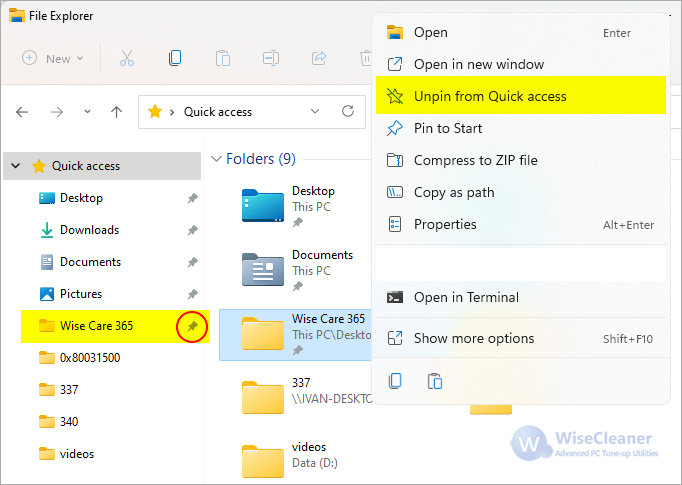 Use Wise JetSearch to locate files quickly
The above is a quick way to view recently used or frequently used files/folders. There are still some files/folders that are not listed in this location, how can I find them quickly? Don't worry, as long as you remember the extension of the file. It is recommended that you use Wise JetSearch.
Wise JetSearch is a free local file search tool. It supports fast searching of files, videos, images, music and everything on local drives and removable drives. And it also supports FAT and exFAT drives.
Step 1. Download and Run Wise JetSearch
https://www.wisecleaner.com/thanks-for-downloading-WiseJetSearch.html
Step 2. Select the Disk where the file is located and File Extension.

Step 3. Click Search.

Step 4. Double-click the search result and Preview.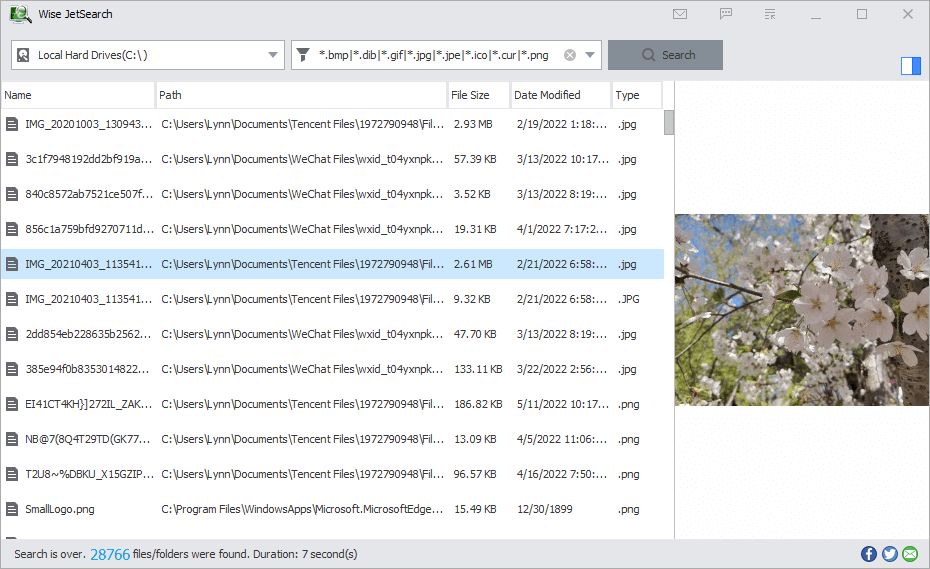 Wise JetSearch is simple and practical, and the search speed is very fast. It is compatible with all versions of Windows, including Windows 11.
Summary
Some features on PCs are not used by most people. However, once you master these skills, you will do more with less. Quickly finding files located on your PC saves you a lot of time. You can choose Quick access function or Wise JetSearch program according to the characteristics of different files/folders.