There is nothing more annoying than a computer that takes a long time to turn on. The reason is that there are a lot of programs load automatically when you boot up. If too many programs are starting during the boot it can add seconds and even minutes to the time it will take for your computer to turn on. In order to speed up the boot time, it is very important to remove some programs that are unnecessary for your computer to start from boot.
What should you do to speed up your computer's boot time? Wise Care 365 can help you find out, disable and restore these useless programs with just one click. It's free and very easy to use. Give it a try now!
How to speed up your computer's boot time?
In this article, we will show you the easiest way to make your boot time faster. Just follow us.
Step 1: Download and install Wise Care 365
Download and install Wise Care 365. And click "System Tune-up" and "Start Manager".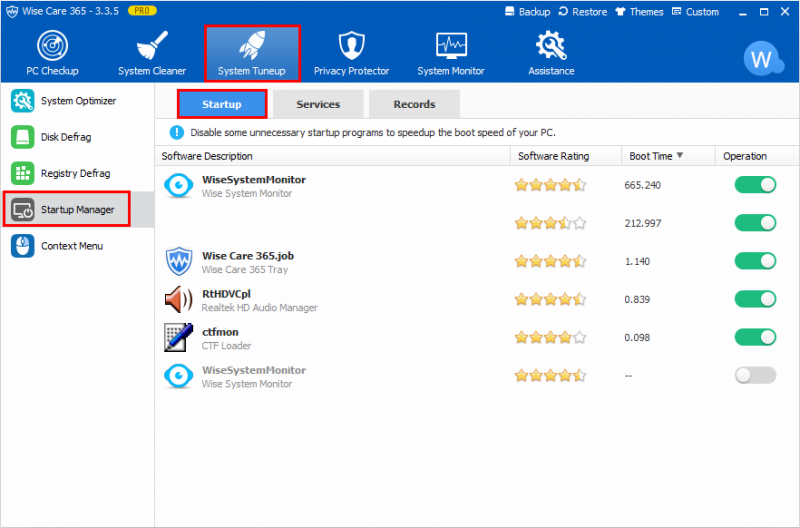 Step 2: Enable or Disable startup items
You can choose whether to enable or disable these programs/services according to your needs. Of course, we have given some suggestions for your reference such as keep, enable, and must be enabled.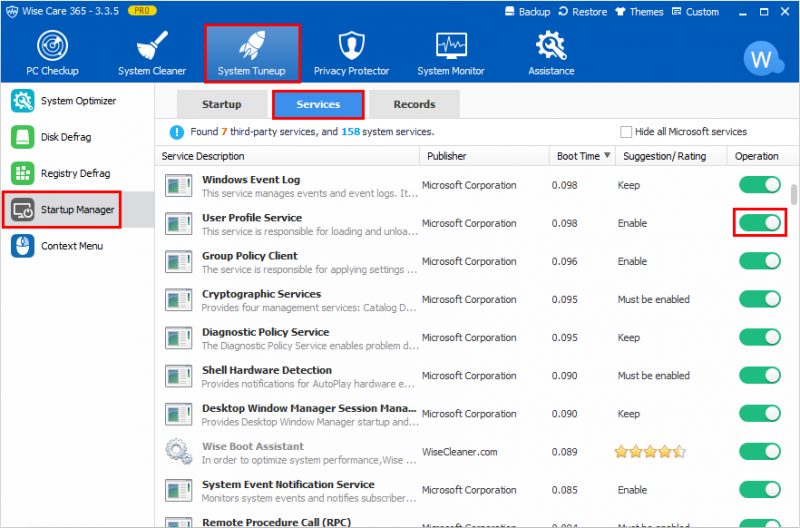 Step 3: Undo operations
Here, you can choose 'One-Click Restore' to restore all startup items that you have closed.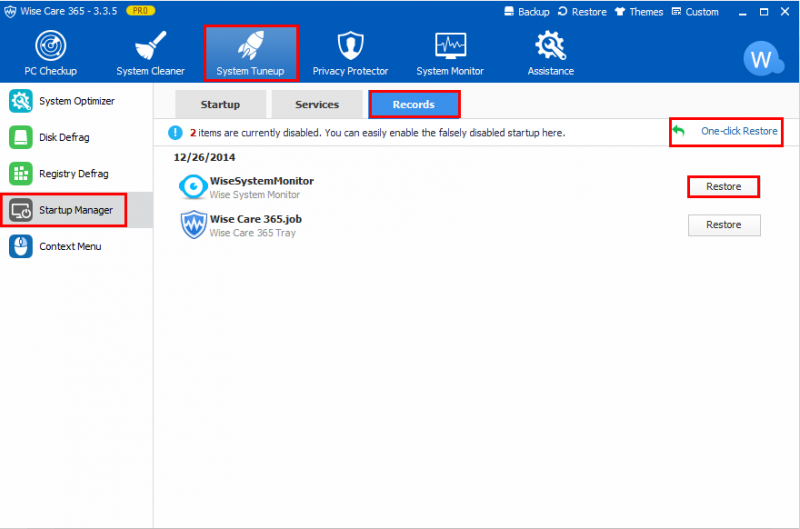 Congratulations! Some unnecessary programs in startup list will be disabled.
With Wise Care 365, it is easy for you to speed up your boot time. Furthermore, Wise Care 365 can do much more for your PC. Other important features of Wise Care 365:
PC Checkup: It will scan your PC and list all the privacy risks, security projects issues, useless files, invalid registry entries, system tune-up recommendations, and privacy related issues.
System Cleaner: System Cleaner cleans invalid registry entries, useless files, download history, browsing history, form history, invalid shortcuts, traces, cache, cookies, passwords, Windows components, and slims down your system.
Download Wise Care 365 now to speed up your boot time immediately or contact us by leaving a message if you have any questions.