Forgot Password
---
The security level of a password depends on the number of characters and the complexity of the password. The more complicated the password, the easier it is to be forgotten. If you really forget your password, please read the instructions below carefully.
1. Free version
If you are using the free version of Wise Folder Hider, please click Forgot Password in the lower right corner of the pop-up password window, and then read carefully How to Retrieve the Lost Password of Wise Folder Hider, and choose the appropriate method.

2. Pro version
If you have purchased the license key of Wise Folder Hider and you are using the pro version,
Please ensure the internet connection is working well before clicking the 【Forgot Password】 button.
Step 1: Click Forgot Password
After clicking the button, the system sends a mail to your registered email address, and displays The password reset link has been sent to xxxxxx.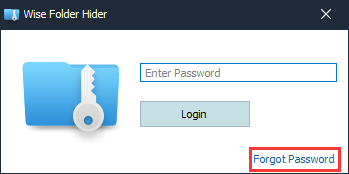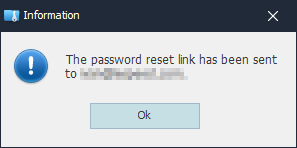 Please DO NOT click the button repeatedly! After the mail has been sent successfully, it may take a few minutes to receive due to network reasons. The mail may also be filtered into spam mailboxes as well.
Step 2: Delete the original password
Open the mailbox to view the email titled Recover access to your WFH account, and click the link Click here.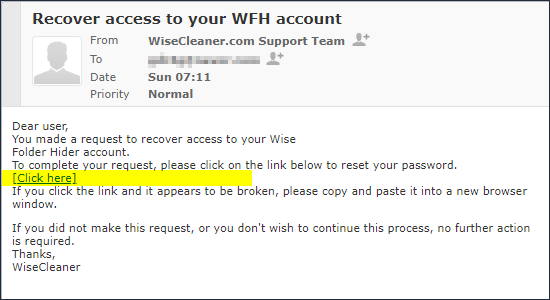 When you see the prompt message in the opened page Your WFH password has been removed. You can set up a new password now. It means that the original password has been deleted successfully.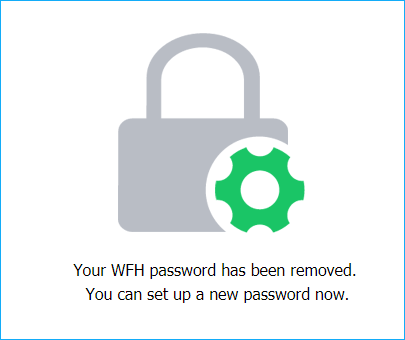 Step 3: Set new password
Run Wise Folder Hider and set a new password.