Settings
---
In Settings window you can change the settings of Wise Registry Cleaner. All settings can be found under these 4 sections: General, Auto Run, Exclusion, Users.
1. General
This tab has 5 settings:
Auto get newsletters

Auto back up registry before cleaning We strongly recommend ENABLE this feature! You can restore removed registry entries from Restore center.

Check for updates You can customize frequency: Daily, Weekly, Monthly, Never (Not recommended)

Default Language You can change software language to your mother tongue.

Backup to You can customize the registry backup folder.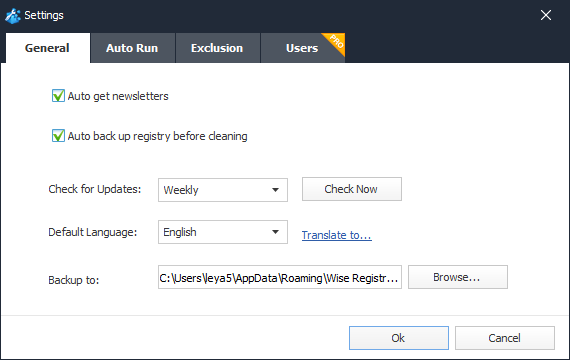 2. Auto Run (Clean with 1 click)
Here, you can create a "Clean with 1 click" icon and place this icon on the desktop. You just need to double click this icon can run registry cleaner silently (run in background, without opening Wise Registry Cleaner window.)

"Clean with 1 click" is as the same as Command Line mode.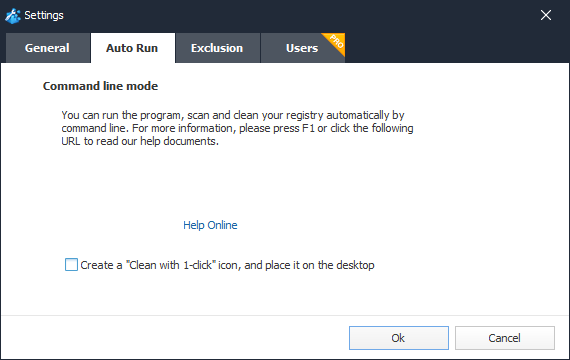 3. Exclusion
All ignored entries in scanning result list will be added into this exclusion list automatically. Of course you can click "Add a keyword" to add a new exclusive registry entry.
All entries in this list will be ignored. This list supports wildcard, such as '*' and '?'. So, it's easy for you to add any keywords into this list.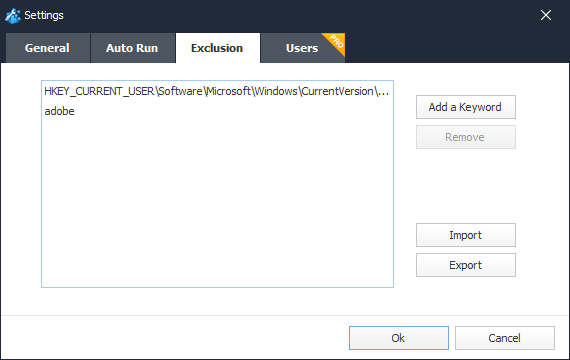 E.g.,
Add HKEY_CURRENT_USER\Software\Microsoft\Windows\CurrentVersion\Explorer\RecentDocs to exclusion list, Wise Registry Cleaner will not clear File Explorer history.
Add adobe as the exclusion keyword, Wise Registry Cleaner will not clear a registry entry which name or path contains keyword "adobe".
4. Users
You can choose user account registry you want to clean. (This is only available for Wise Registry Cleaner Pro version)