Menu
---
The Menu of Wise Registry Cleaner has many features, such as Help Online, Forum, Home Page, Contact us, Create Portable version, Check for updates, Back, Restore, Register, Change license key, Languages, Select Skin, About.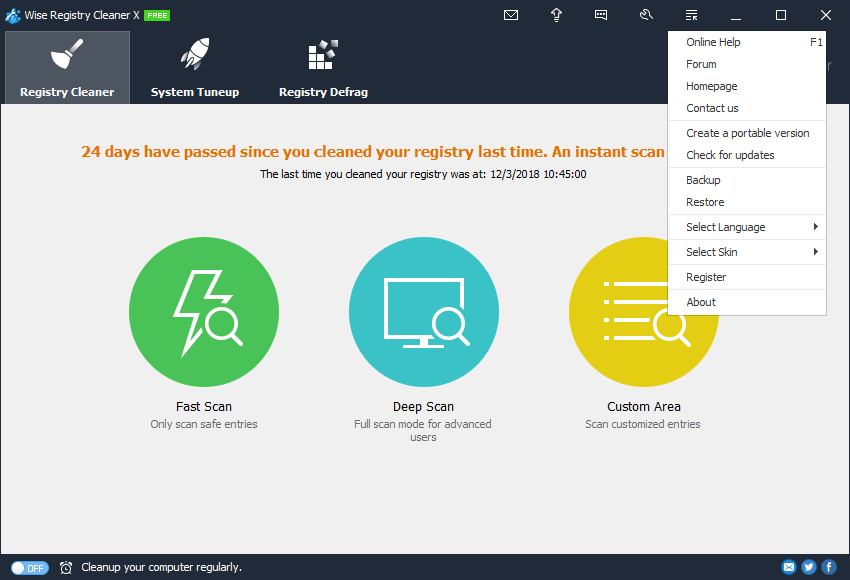 1. Create Portable version
Portable version, you can move it to a removable device (a USB device), run Wise Registry Cleaner easily in other Windows system without installing.
2. Back and Restore
See details in section 4 of How To Use, Backup & Restore.
3. Select Skin
You can customize Wise Registry Cleaner skin color.
4. Languages
Wise Registry Cleaner supports 45 languages, English, Arabic, Belarusian, Bengali, Bulgarian, Catalan, Chinese Simplified, Chinese Traditional, Croatian, Czech, Danish, Dutch, Estonian, Finnish, French, Georgian, German, , Greek, Hungarian, Indonesian, Italian, Japanese, Korean, Kurdish, Lithuanian, Norwegian, Persian, Polish, Portuguese, Romanian, Russian, Serbian, Slovak, Slovenian, Spanish, Swedish, Tajik, Thai, Turkish, Ukrainian, Vietnamese