| | |
| --- | --- |
| Introduction to Wise PC Engineer | |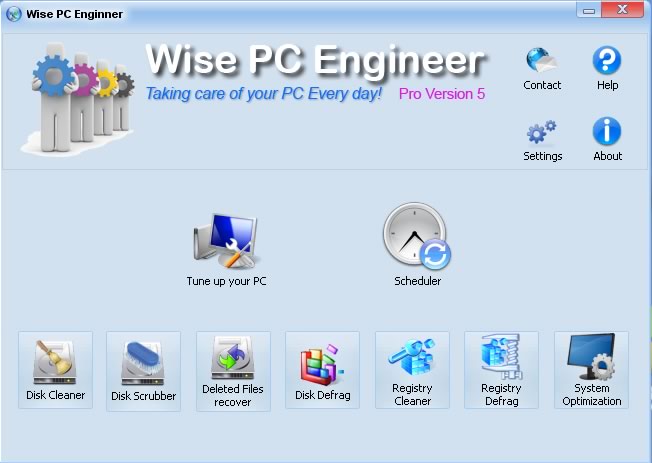 Wise PC Engineer is designed to make it as easy as possible to keep your PC running at it's ultimate speed.
Tune up your PC will create a restore point, clean up your hard drive and clean your registry at the press of one button.
Schedules the Tune up of your PC.
Cleans files left on your PC by other programs.
Files that are deleted from your PC are actually still recoverable. This option will scrub all deleted files. Once this option has been used no one will be able to recover deleted files.
Files that have been deleted from your PC can be recovered using this option, providing you have not used the scrub option.
As files get saved, deleted and moved on your hard drive so the files become fragmented. This option will reorganise your drive and will ensure faster access to your drive.
The registry is the road map for your PC programs. As files and programs are saved, deleted, copied and moved around, the road map becomes clogged with necessary links; using this option will clean the registry of all these settings.
In the same way as your hard disk gets defragmented your registry (pc road map) gets fragmented too. Using this option will ensure the efficient running of your PC.
This option will ensure that all the settings on your PC are optimised to give you maximum efficiency and speed.